The
S

hanghai Museum

and Tour
Shanghai Museum has been famous for its large collection of rare cultural pieces. The museum now houses over 120,000 pieces of cultural relics in twelve categories, including Chinese bronze, ceramics, paintings and calligraphy, and artifacts.

Shanghai Museum is especially well-known for its collection of brozen pieces. The 1,200 square meter exhibition room has displayed more than 400 beautifully decorated brazen, which deliver a panoramic picture of China from 18th century BC to the 3rd century BC. The items exhibited include the bronze wine vessel, food vessel, musical instrument, water vessel,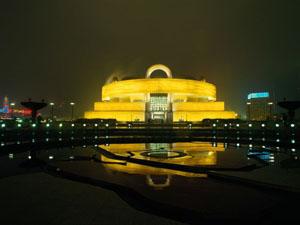 weapon and some other vessels from the Xia Dynasty (ca, 21st century B.C.) to the Warring States Period (221 B.C.) Visitors can also get a clear picture of what ancient silk looks like in the Seal Showroom. The room consists of 4 parts, and displays more than 500 pieces of seals that are works from the Zhou Dynasty(1024-256 BC to Qin Dynasty(1644-1911).

If you are interested in Chinese architecture, you should not miss the room showing Chinese furniture of the Ming and Qing dynasties. Over 100 pieces of various styles of furniture made in the Ming and Qing Dynasty were displayed. There are also some models of valuable furniture and wooden buried warrior figure of Ming Dynasty unearthed in the area around Shanghai. Stepped into the room, visitors almost feel like he is in a Chinese-style garden and mansion.

On the Arts and Crafts by Chinese Minority room, visitor can enjoy about 600 pieces of work of art, such as dress and personal adornment, dyed and woven embroidery, metal art ware, sculpture, ceramics, bamboo wares used by the minority. Different styles, remarkable color and creative conception embody the pursuit of happier life.

Other rooms here are Ancient Chinese Calligraphy Room, Ancient Chinese Ceramics Room, Ancient Chinese Jades Room, Ancient Chinese Numismatics Room and Ancient Chinese Paintings Room.
Galleries
Gallery of Chinese Ancient Bronze

Gallery of Chinese Ancient Bronze

Gallery of Chinese Paintings

Gallery of Chinese Calligraphy

Gallery of Chinese Ancient Sculpture

Gallery of Chinese Ancient Jade

Gallery of Chinese Coins

Chinaese Ming and Qing Furniture Gallery

Gallery of Chinese Seals

Chinaese Minority Nationalities'sArt Gallery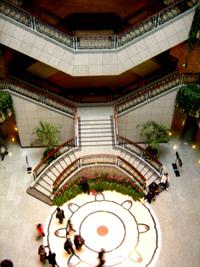 TOUR TO Shanghai Museum

Expo Site China Pavilion, Yuyuan Garden/Financial Center Birdsview, Shanghai Museum, the Bund, Nanjing Road, Acrobatic Show.


Back to Shanghai Tour Packages Page
CUSTOMIZE YOUR SHANGHAI TOUR