Beijing to Pingyao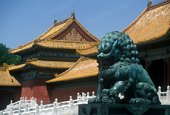 Forbidden City,
Beijing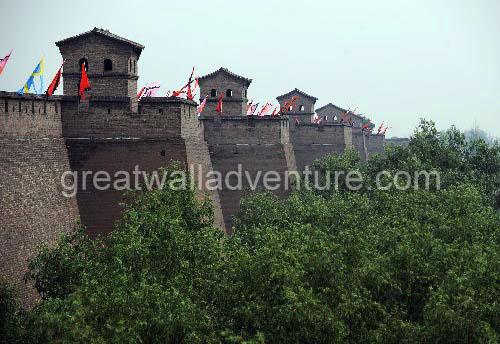 Pingyao
Beijing-Pingyao Three-Day Tour (By Express Train)
Highlights:
•Discover the ancient town of Pingyao, one of the only cities in China to maintain its ancient city walls and streets. Being here will transport you back in time to the China of yesteryear. The city is something of a living museum

•Price of express train tickets included in the tour
(B=breakfast, L=lunch, D=dinner)

Package Price

Price is based on the time of travel and number of customers. Please inquire through the form on the left side of the page, we'll quote the best price we can get. As this tour package involves domestic transfers, the package price will vary from time to time because of the changing airfares and hotel rates.
TOUR ITINERARY

Tour code:




P-BJSPINGYAO2

Day 1 : Beijing-Taiyuan-Pingyao-Beijing (by train and van) (L)

At about 7:00am your travel guide and driver will meet you at your hotel and take you to Beijing West Railway Station where you will take the express train to Taiyuan (about 3 hr train ride), the capital of Shanxi province. Upon arrival in Taiyuan your local English-speaking guide and driver will meet you at the station and drive you to Pingyao by van (1.5-2hr drive). Upon arrival in Pingyao we'll immediately get started on your tour. For much of today's touring, we will be walking within the ancient town of Pingyao, which is built in the style of traditional Chinese urban planning, which includes 4 main streets, 8 narrow roads, and 72 smaller lanes, all of which for a neat and logical grid.

The three-story Market Tower is the center and joint point of the city streets. The buildings such as Ancient City Government seat, Town God's Temple, Confucius Temple, Military God Temple, Wealth God Temple and Lucky Fortune Temple are arranged symmetrically. With its main streets forming a "干"shape, there are altogether four main streets, eight branch streets and 72 lanes in the city area. Having stood a long time weather-wearing, all these buildings show no sign of dilapidation. In front of the gates of some magnificent buildings and grand shops, deep ruts on the ground are still there to be seen, reminding visitors of its ancient busy traffic and commercial situation. The streets in this ancient town are broad and very well arranged. Dotted with memorial archways and decorated gateways, stretching one after another and high and low, the old houses and courtyards flanking the streets and lanes remind visitors of the long past and their ancestral places. Walking along the ancient streets, you seem to have landed in a world beyond the present one. 18.5 meters in height, and situated in the town center, the Market Tower is the highest building within the main street from the south to the north running through it. it is said the marketing was going on around the Tower all day long, thus it was named the Market Tower. Belonging now to the historical sites protected by the provincial government, it was renovated in 1688 during the Emperor Kangxi Period of Qing Dynasty, but people still don't know when it was first built.



We'll come across the Ri Sheng Chang bank, which was the scene of China's modern banking and commercial business. As early as in 1824, Ri Sheng Chang bank had begun its business. Within a few years of its founding, its branch banks were rapidly distributed to Jiangsu, Shandong, Henan and Liaoning Provinces. Branch banks were also set up in such big cities as Beijing. Today, people can still trace its great prosperity of the bank groups nicknamed as the "Asian Wall Street" from the remaining bank and shop buildings along the West Main Street in ancient Pingyao City.

You'll then be taken to your hotel, the 3-Star Tianyuankui Hotel.


Day 2: Pingyao (B, L, D)
Following breakfast in the hotel we'll make the 90 minute drive outside of town to the Wang Family Courtyard. he Wang Family Compound is a masterpiece of Oriental domestic architecture. The compound had been built successively during the periods of Kangxi, Yongzheng, Qianlong and Jiaqing Emperors of Qing Dynasty (1644-1911). It covers a total area of 250, 000 square meters. The compound can be divided into three distinct groups known as the Gaojiaya, the Hongmenbao and the Ancestral Temples. The two groups of buildings at Gaojiaya and Hongmenboa stand from east to west facing each other, which are linked with a bridge. They are all fortress-like constructions on the loess plateau, and were built on the terraces of the mountainside.

After lunch you'll be treated to a rare treat, an underground Chinese castle, which is located in the ancient village of Zhangbi. You may find the ancient cultural ruins of Xia Dynasty (2100 BC-1600 BC) and Shang Dynasty (1600 BC – 1028 BC), the ancient tunnel dated back to Sui (581 – 618 AD) and Tang (618 – 907 AD)Dynasties, Performance Stage of Yuan Dynasty (1271-1368 AD), Tombs of Jin Dynasty (1115-1234 AD) as well as cultural left over of Ming (1368-1644 AD) and Qing (1644 – 1911 AD) Dynasties.

The entire tunnel which remains until now was built since year 617, with total length of ten kilometers. The tunnel was either two or three levels with the width for one or two persons to pass through while the average height of the tunnel is below 1.8 meters. However, many sections of the tunnel had been destroyed due to earth quakes and floods throughout the years. The original plan of the tunnel had no where to be proved but it is still an interesting historical site to visit anyway. You'll then be driven back to Pingyao where we'll have a Chinese dinner. The rest of the night can then be spent at your discretion.
Day 3: Pingyao-Taiyuan-Beijing (by train) (B, L)
After you've had breakfast and checked out for your hotel, we'll drive back to Taiyuan, but before going to the train station we'll stop at the Shanxi Provincial Museum. The Museum houses a large collection of exhibits that show the history and culture of Shanxi province. It has collected 100,000 items of historical relics, revolutionary relics and natural samples, of which 443 items are the most well-known. It is a large complex built in a traditional style, with courtyards encircled by buildings of the Ming Dynasty style.
You will then be taken to the Taiyuan train station for your ride back to Beijing. After arriving in Beijing your guide and driver will drive you back to your hotel.