Beijing to Pingyao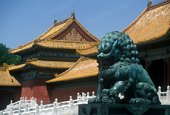 Forbidden City,
Beijing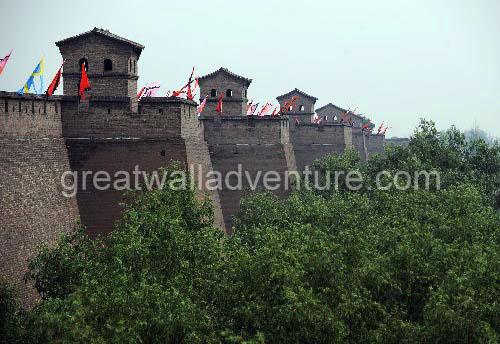 Pingyao
Beijing-Pingyao One-Day Tour(By Train)
Highlights:
•Discover the ancient town of Pingyao, one of the only cities in China to maintain its ancient city walls and streets. Being here will transport you back in time to the China of yesteryear. The city is something of a living museum
(B=breakfast, L=lunch, D=dinner)

Package Price

Price is based on the time of travel and number of customers. Please inquire through the form on the left side of the page, we'll quote the best price we can get. As this tour package involves domestic transfers, the package price will vary from time to time because of the changing airfares and hotel rates.
TOUR ITINERARY

Tour code:




P-BJSPINGYAO

Day 1 : Beijing-Taiyuan-Pingyao-Beijing (by train and van) (L)

At about 5:30am your travel guide and driver will meet you at your hotel and take you to Beijing West Railway Station where you will take the express train to Taiyuan, the capital of Shanxi province. Upon arrival in Taiyuan your local English-speaking guide and driver will meet you at the station and drive you to Pingyao by van (1.5-2hr drive). Upon arrival in Pingyao we'll immediately get started on your tour. For much of today's touring, we will be walking within the ancient town of Pingyao, which is built in the style of traditional Chinese urban planning, which includes 4 main streets, 8 narrow roads, and 72 smaller lanes, all of which for a neat and logical grid.

The three-story Market Tower is the center and joint point of the city streets. The buildings such as Ancient City Government seat, Town God's Temple, Confucius Temple, Military God Temple, Wealth God Temple and Lucky Fortune Temple are arranged symmetrically. With its main streets forming a "干"shape, there are altogether four main streets, eight branch streets and 72 lanes in the city area. Having stood a long time weather-wearing, all these buildings show no sign of dilapidation. In front of the gates of some magnificent buildings and grand shops, deep ruts on the ground are still there to be seen, reminding visitors of its ancient busy traffic and commercial situation. The streets in this ancient town are broad and very well arranged. Dotted with memorial archways and decorated gateways, stretching one after another and high and low, the old houses and courtyards flanking the streets and lanes remind visitors of the long past and their ancestral places. Walking along the ancient streets, you seem to have landed in a world beyond the present one. 18.5 meters in height, and situated in the town center, the Market Tower is the highest building within the main street from the south to the north running through it. it is said the marketing was going on around the Tower all day long, thus it was named the Market Tower. Belonging now to the historical sites protected by the provincial government, it was renovated in 1688 during the Emperor Kangxi Period of Qing Dynasty, but people still don't know when it was first built.

We'll come across the Ri Sheng Chang bank, which was the scene of China's modern banking and commercial business. As early as in 1824, Ri Sheng Chang bank had begun its business. Within a few years of its founding, its branch banks were rapidly distributed to Jiangsu, Shandong, Henan and Liaoning Provinces. Branch banks were also set up in such big cities as Beijing. Today, people can still trace its great prosperity of the bank groups nicknamed as the "Asian Wall Street" from the remaining bank and shop buildings along the West Main Street in ancient Pingyao City.

You'll have the chance to walk along Pingyao's ancient city wall, which is one of the only cities (along with Xian) in China to have its city wall intact. Built with rammed earth inside and brick and stone outside, the ancient city walls measure 10 meters high and 6162.7 meters long with 3-5 meters wide tops. Except the southern wall, which zigzags a bit according to the land contour, the other three walls all go straight, making the city area a square one. One city gate was built each to the southern to northern walls and two city gates were built each to the western and eastern walls. All six city gates have gate towers and inside gates attached to them. A watchtower was built on the wall top every 50-100 meters away, totaling 72 watchtowers in all along the four walls. From the wall you will have a great view of the ancient city center.

On our way back to Taiyuan we'll stop to explore the Qiao Family Courtyard. This extensive compound was originally constructed in 1756 by Qiao Guifa, who made his fortune selling tea and bean curd in Inner Mongolia. He returned to his hometown in Qi County and built his dream house, which was then expanded by later generations of Qiao's. This magnificent complex is laid out in the shape of the Chinese xi character, meaning "double happiness." After entering through the main gate, one finds oneself on a long path leading to the main hall, which is the family's ancestral hall. This path divides the compound into southern and northern sections. Both halves have three courtyards each, and these six courtyards in turn include 20 smaller courtyards, 313 rooms, and a number of gardens spread out over a two-acre piece of land. The compound impressed visitors not just for its size but also for the exquisite craftsmanship displayed in the brick carvings, woodwork, murals, and inscribed tablets. The wide variety of different roof styles is particularly interesting to see, and there are over 140 chimneys in the compound, each having its own design. Zhang Yimou's popular film, Raise the Red Lantern, was filmed here.

You'll then be driven to the Taiyuan train station for your train ride back to Beijing. Upon arrival in Beijing you'll be met by your guide and driver who will take you to your hotel.
Train Information:

Beijing-Taiyuan: D2001 07:06-10:28 (soft seat)

Taiyuan-Beijing D2024 19:11-22:28 (soft seat)