Yulong River (Dragon-meeting River)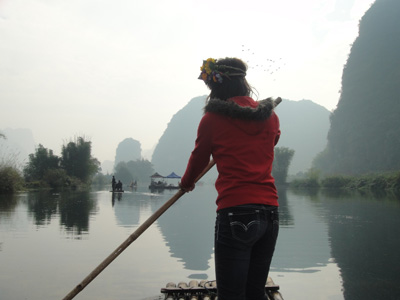 The Dragon-Meeting River is the one flowing with rich feelings of the people. Known as "Lesser Lijiang", full of resourcefulness, it was called "Anle (Peace and Happiness) River" during ancient times. Taking its source in Lingui County, the Dragon-meeting River stretches some 42.5 km with the section between the Dragon-meeting Bridge and Qing'e Ferry Crossing presenting the best scenery, the main spots along which include Rhinoceros Valley, Scenery at Shui'e, Five-fingers Hill, Facing Sun Stockade, Xiangui Bridge, Dragon-meeting Bridge and Ruins of an Ancient City of Returning to Loyalty as well as clusters of Han tombs and Eight Immortals Crossing the Sea, a total of about twenty scenic attractions.
Don't you want to know how the name of the "Dragon-meeting River" was derived? Legend has it that a long time ago a small dragon from the East China Sea came on patrol all the way up here and he found the place so beautiful that even the scenery of the East China Sea was no match for it. So he didn't want to leave and instead settled down here in the river. From then on, he got out of the water during the evening to appreciate the scenery while hiding in the river during the daytime. However, as time went on, he got used to it. He not only got out of the water during the evening but also during the daytime to enjoy and play and it is said that many local folks along the river saw it and so the river "Anle" was changed into "Dragon-meeting River".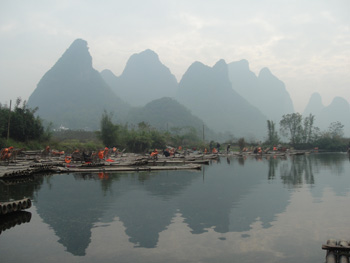 The hills along the two banks are of different shapes with dense forests and elegant bamboo groves. Green all the year round, the river has paddies full of life and vitality. The water in the river is so clear that you can see to the bottom and standing by the riverside you'll get a picturesque scene with a poetic sense to swell up in your mind. What a beautiful picture, a fairyland in the world of human beings! No wonder that Dr. Karl of Harvard University, a world famous expert on the art of gardening, exclaimed, "I've seen the most beautiful place in China" when he made a tour on foot here. Whenever a fishing boat or a bamboo raft plies into the water, the reflections by the shoal will turn out a series of pictures presenting an environment for different poetic moods and inspirations. Yuan Mei, a poet of the Qing Dynasty, described it like this, "For certain, I saw tops of the Green Mountain, but strangely over them my boat is sailing."

For tours to Yulong River of Yangshuo, please visit Tour-Guilin page for various tour packages.