Longsheng Rice Terrace Tour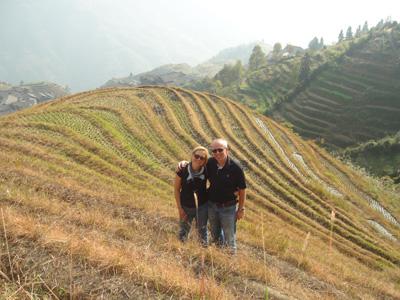 Located approximately 27 kilometers (about 16 miles) southeast of Longsheng County, a vast region of rice terraces stretches layer upon layer, coiling around from the base of Longji (the dragon's backbone) Mountain to its summit. This is the most amazing terrace in China, the Dragon's Backbone Rice Terraces. Construction of the terraces began in the Yuan Dynasty (1271-1368), and continued until the early Qing Dynasty (1644-1911) when construction was completed. The Dragon's Backbone Rice Terraces are the culmination of both the profound wisdom and strenuous labor of the Zhuang people.

Now, the Dragon's Backbone Rice Terraces covers an area of 66 square kilometers (about 16308 acres) and spans an altitude between 300 meters (about 984 feet) and 1100 meters (about 3608 feet). It is said, 'Where there is soil, there is a terrace', be it in the valley, with swift flowing river to the mountains summit with its swirling cloud cover, or from bordering verdant forest to the cliff walls. Even though the Dragon's Backbone Rice Terraces is large, it is made up of numerous patches no more than 1 mu (it is a traditional unit of area in China, currently call shimu) (about 0.16 acres). The smaller ones like snails while the bigger one like towers. The outline is very smooth with gradients between 26 degrees and 35 degrees.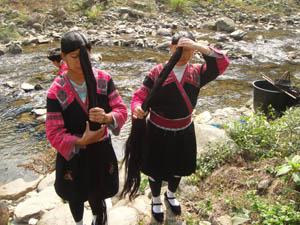 The Dragon's Backbone Rice Terraces is a beautiful natural picture. The linked together rice terraces vary from season to season. In spring, the water is irrigated into the fields and the terraces look like great chains or ribbons hung on the hillsides. With the onset of summer, green waves rush continuously down the mountainside from the heaven. The theme of autumn is the harvest, with the mountainside decorated with the gold of ripened millet. Coming into winter, the whole mountain will be covered with white snow, just like dragons playing with water.

As well as its amazing scenery, Longji is also the area to visit to experience Chinas ethnic minorities' culture. The Zhuang and the Yao nationalities live here, though mainly it is the Zhuang people. The women dress in unique and colorful costumes, singing and dancing. Guests also can join in with them to enjoy the original Zhuang life and culture, and even stay with local families enjoying both the Longji tea and the Longji wine.
For tours to Longsheng, please visit Tour-Guilin page for various tour packages.