Yunnan Adventure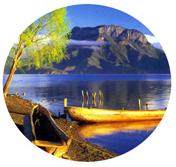 Yunnan Adventure: 7-day
Tiger Leaping Gorge & Haba Mountain of Shangri La Trekking Tour
Highlights:
• For those who love the outdoors and a challenge, than this is the perfect adventure hike for you. You'll get to trek through Tiger Leaping Gorge, one of the world's most impressive gorges, as well as being widely considered the best hike in China
• Visit the town of Shangri-La, which was once thought only to exist in legend. This real-life paradise will enchant you with its Tibetan tradition, grand monasteries, and above all it's people, and you'll get to visit and have dinner in the home of a Tibetan family in the town
• You'll be accompanied on your tour with a professional trekking guide, ensuring that your trip through Yunnan will be both worry-free and highly enjoyable.
B=(Breakfast) L=(lunch) D=(dinner) DEPARTURE: Daily
TOUR ITINERARY

Tour code:


AYN-23
Day 1: arrive in Lijiang

You will fly to Lijiang, Yunnan province in the southwest of China, and upon arrival at the airport you'll be met by your English-speaking guide. Lijiang is a town that is an enclave of ethnic minority cultures, and the Naxi ethnic group is especially prevalent here. Upon arrival you'll be met by your English-speaking guide, and you'll be taken to your hotel.

You will have the rest of the night to walk around the old town of Lijiang, which has a history of over 800 years. The old town is made up of three old districts that retain a special character of Naxi and Han construction and Naxi customs, arts and culture. It was a former trading town and a stop for traders carrying goods on the "Chama Road" trails. It was listed as a UNESCO World Heritage Site in 1997 following an earthquake and reconstruction in 1996 that returned the city to a more ancient look. The UNESCO description says: "The Old Town of Lijiang, which is perfectly adapted to the uneven topography of this key commercial and strategic site, has retained a historic townscape of high quality and authenticity."

Day 2: Lijiang-Middle Tiger Leaping Gorge (B, L, D)

Today we are going to get started on our hike through Tiger Leaping Gorge. Tiger Leaping Gorge is one of the world's deepest gorges, and is tucked in between Jade Dragon Snow Mountain and Haba Mountain. At a length of 17km, Tiger Leaping Gorge is the birthplace of the ancient Lijiang culture, whose people lived in the many caves, big and small, in the side of Yulong Xueshan (Jade Dragon Snow Mountain). These caves were naturally formed houses. In some caves, rock paintings and artifacts shedding light on the life of these primitive peoples were found. The rock paintings have now become another attraction of Tiger Leaping Gorge. The gorge is regarded as one of the top ten hiking trails in China.

At 8 in the morning we will drive (2 hour drive) to the town of Qiaotou, which is where we'll begin our trek. While you are walking in the gorge, our support team will take all of your luggage to meet you, so you only need to carry two bottles of water, snacks, and a camera on your trip. We'll hike for two hours, and then stop for lunch at a Naxi family restaurant, and here we'll try some Naxi cuisine.

We'll then resume our hike, continuing to hike another 2 hours up the steep switchback called "28-bends before the next break". The views are unforgettable (you are at an altitude of over 3000m). After a break, we'll hike another one or two hours, and then we will arrive at the Halfway Guesthouse, which has a great view of Yulong Snow Mountain and overlooks the Jinsha (Golden Sands) River Valley. You can sit out on a deck facing the mountain, and there are hot showers and clean beds.



Day 3:

Tiger Leaping Gorge (B, L, D)

We'll rise early in the morning, and we'll continue hiking for about 2 hours until we reach Tina's Inn, and we'll spend about an hour there to have a break and a meal. Around mid-day we will reach the steep cliffs of Middle Tiger Leaping Gorge, along the bank of the Jinsha River. At this point we will visit the narrowest point of the gorge, where it is said that a tiger could easily jump over the Jinsha River, hence the gorge's name. It is a tight spot with the whole of the Yangtze River confined to a 20-meter (70-foot) width.

We'll then climb up the gorge to Walnut Grove (Woody's Guesthouse), where we will spend the evening.

Day 4: Tiger Leaping Gorge-Haba Village (B, L, D)

Following breakfast at the guesthouse, we will walk to Haba Village, a town that is the gateway for those who want to go on and climb Haba Snow Mountain. The village is where we will spend the night. At the village you will be treated to a walk along the hills around the village, from which you will get a spectacular view of Haba Snow Mountain.

The Haba Snow Mountain, with its main peak 5,396 meters in height, covers 21,908 hectares, and is covered with a vertical distribution of forests. The attraction of the Haba Snow Mountain is attributed to the towering peaks and its alpine moraine lake, along with endless tracks of azalea flowers.

Day 5: Haba Village-Shangri-La (Zhongdian) (B, L, D)

Today we will drive to Shangri-La, and on the way we will stop at White Water Terrace, which is known in Chinese as Baishuitai. White Water Terrace in Naxi (the local ethnic minority group) means 'growing flower'. Not only a place of beautiful scenery, it is also one of the birthplaces of Dongba Naxi culture, which is widely known around the world. It is said that the founding father of Dongba culture settled here to spread his beliefs on his way back from Tibet. On the eighth day of the second month of the lunar calendar, that is, the day when the founding father held his founding ceremony, people of various groups congregate round the terrace, singing and dancing and slaughtering chickens to pay tribute. White Water Terrace occupies an area of about 3 square kilometers with green plants and springs setting off each other, and is just like a "field in heaven".

We'll then drive the final 100km in order to reach Shangri-La. The name Shangri-la was made famous by the English author James Hilton in his legendary novel "Lost Horizon" where he described a fictitious paradise. However, there is a real Shangri-la in China's southwest Yunnan Province. It is a beautiful land characterized by snow-capped mountains, vast grasslands, idyllic lakes and religious culture. It is a "Utopia" free from stress, pollution and turmoil that plagues most of the cities where we live.

The town was a crucial staging point on the ancient Tea-horse Road. The region first became a trade town during the Qing Dynasty and gradually rose as one prosperous business center on the Tibet-Yunnan trading passage. Caravans from South Asia carried horses, carpets, herbs etc through Lhasa, Tibet to Shangri-la to exchange tea and other local products to return.



Day 6:

Shangri-La (B, L, D)

You will have a full day of sight seeing in Shangri-La, and our first stop will be the Ganden Sumtseling Monastery. Being the largest Tibetan Buddhist monastery in Yunnan, Songzanlin Monastery, also known as Guihua Monastery, is one of the famous monasteries in the Kang region. The monastery is located near Shangri -La County, at the foot of Foping Mountain.

Construction of the monastery began in 1679 and was completed two years later. The monastery seems like a group of ancient castles and is composed of two lamaseries, Zhacang and Jikang. The gilded copper roof endows the monastery with strong Tibetan features and the 108 (an auspicious number in Buddhism) columns downstairs also feature the monastery with characteristics of Han nationality. The main halls in the monastery are magnificent, and on both the left and the right sides are wonderful frescos, depicting Buddhist tales and legends. The inside-halls are exquisite with cloisters running through. The cloisters are all decorated with beautiful sculptures and consummate frescos.

Then it is off for some relaxation at the Pudacuo Nature Reserve. This is a protected wetlands area that has a primitive forest of coniferous trees lakes, and lies 3,539 meters above sea level. Two lakes that accentuate the beauty of this park are the Shuda Lake and the Bita Lake. We will then follow this up with a visit to the Summer Pastures at Napa Lake, right outside Shangri-La.Several rivers flow into the lake, including the Naizi and Naqu Rivers. The lake is seasonal in that it is dry in the fall and winter seasons, naturally becoming part of the Yila Prairie. During this time, visitors can see many sheep and cows grazing in the lakebed.

Afterwards we'll head to the Old Town of Shangri-la (known as the Jiantang Old Town), which contain bazaars and markets. The Jiantang Old Town contains hefty Tibetan wooden buildings (some old, and many that look rather older than they are), and several temples built onto a hill in the centre of town. Next we'll go over to Guishan Park, a lovely preserve with a temple one top that gives you a sweeping panoramic view of the entire city.

In the evening, you'll get to have some firsthand experience in the Tibetan culture of the area by visiting the home of a local Tibetan family. If you're a good guest (and we're sure you will be!), you'll get to try some yak butter tea (yummy!), and even take part in some Tibetan dancing!

Day 7: Shangri-La-departure (B)

After breakfast you will be taken to the Shangri-La airport, and you will fly on to your next destination, ending your tour with us.
Stuff to bring:
• Sturdy shoes or boots, sunglasses and sunscreen
• Bug spray and any other items needed in dealing with the tropical heat
• Tips for a job well done by your guides and drivers, money for any personal expenses not mentioned