Hi there!
Welcome to Beijing, the home of 2008 Olympics!
We have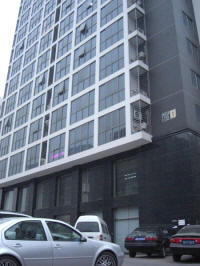 just re-opened our famous home-lodging service in Beijing -- Beijing Downtown Homelodge (BDH). At this time, we have one high-end apartment suite (flat) to offer fully-furnished accommodation - Beijing Oriental Fortune Tower. The suite is located centrally within Beijing's second ring road (2nd loop freeway in American English) with extremely convenient transportation to airport, train station and business center (CBD). It is ideal for business visitors and tourists and great for single, couple or a family of three or four.
Managed by experienced staff of Great Wall Adventure Club, our guest house and suite will be your unforgettable "home away from home." At BDH,
you experience the lifestyle of ordinary Beijing residents while enjoying highest level of safety and privacy in such an esteemed area of Beijing. This American style apartment is great for either short-term or long-term apartment rental.
This is one of the best apartment suite to rent in Beijing with higher service standard. Since our grand opening in Summer 2006, hundreds of guests from United States, Russia, Australia, Japan, Canada, New Zealand, UK, France, Israel, Argentina, Spain and Malaysia have stayed in our apartments. We thank you for choosing our roomy apartments (flats) as your home in Beijing.
Central Location: BDH is conveniently located in the heart of Beijing City. It is by Jianguomen and Guangqumen Wai Dajie, two bus stops to Subway Line 10, ten minutes by taxi to Guomao CBD and the famous Silk Street Market, five bus stops to Qianmen and Tian'anmen, seven stops to Temple of Heaven, ten minutes to Train Station by car or twenty minutes by bus, and 30 minutes to airport. Please click to view the location of BDH in a Beijing City Map.

Landmarks Highlights: Beijing Train Station, Temple of Heaven, Tian'anmen Square, Forbidden City, Wangfujing, Qianmen, Jianguomen, Guomao CBD, Silk Street Market, Pearl Market, etc.
Arriving by Air ($4 fare for Airport Express Train or $12 by Taxi): Simply take Airport Express Train to Sanyuanqiao Transfer Station and switch to Subway Line 10 to Shuangjin Station. Then take Bus Line 23 or 715 for only two stops to Guangqumen. Taking a taxi is an easy way to get to our place. The taxi will cost you about $12 (RMB100). It's not that expensive at all.

Airport Pickup: While we encourage guests to take the advantage of Airport Express, BDH will be gladly pick you at the airport for $30 upon special request. The fee covers up to three guests and $5 for each additional guest.
Arriving by Train: We are just 10 minutes by taking a taxi from the train station. Pickup service is also available for $20.

Request More Information or Make A Reservation:
Please use this form to send your questions in detail including your name, Email, phone number, check-in and check-out dates.
Please click on the thumbnails to view large photos of the apartment (flat).

1 ON 1 Personalized Care that you normally can experience
only at a 5-Star hotel.

Distinguished from other hotel and hostel service, Beijing Downtown Homelodge offers many highly-demanded services including the following:

Standard Amenities:

Clean bed sheets and bath towels.
Cheap laundry with washer.
Free high-speed Internet
All rooms are A/C controlled

Feature Amenities and Services:

Free Beijing orientation
Free Beijing map and travel docs.
Domestic and international flight ticket booking assistance
Our featured Great Wall hiking program and city tours at discounts
Discount Beijing guided tour
Airport pickup
Free guest kitchen with refrigerator and microwave
Free birthday cake (Happy Birthday in Beijing!)
Laundry drying service
Faxing service for business
Low rate international long distance to stay in touch with your family
TV and free DVD rental (Hollywood movies)
Free look-after of your luggage while you travel to other cities
Cheap digital camera rental
Cheap cell phone rental
Discounts on bars and restaurants spending
Sign bill at surrounding restaurants for your convenience
Cheap bicycle rental
Discount on barber and salon service
Convenient credit card payment over Internet
No service tax.
Free Beijing apartment search for international students or temporary
workers.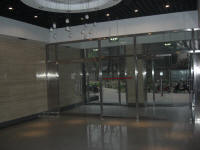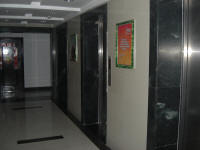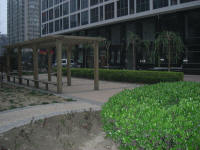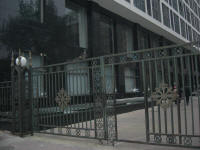 Lobby, Elevator, Ground Garden and Security Gate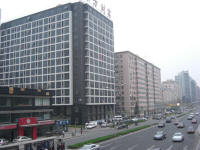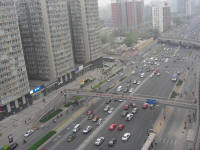 The Tower and the Guangqu Road