Dunhuang Hotels
HOT Dunhuang HOTELS for
Best Accommodations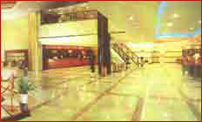 Photo: Dunhuang Grand Sun Hotel





USD 31
How about

+

?
Please consider our
Dunhuang sightseeing packages
that include great accommodation
and local tours.
Dunhuang Discount Hotels, Hostels
Dunhuang has 492 caves, with 45,000 square meters of frescos, 2, 415 painted statues and five wooden-structured caves. The Mogao Grottoes contain priceless paintings, sculptures, some 50,000 Buddhist scriptures, historical documents, textiles, and other relics that first stunned the world in the early 1900s. Dunhuang is an oasis town in Chinese Central Asia west of Xian, a former capital of China. To the west of Dunhuang lies the Taklamakan Desert. The silk road coming from the west split to follow the northern and southern borders of the desert where there were many small oases. Dunhuang was the town where the two branches of the silk road rejoined for the final leg into China's capital.

Great Wall Adventure Club (GWAC) has formed a partnership with China's largest online discount hotel reservation network eLong.com to offer 70% discount hotel rates of major hotels in China cities including Dunhuang. eLong.com is the only Chinese online travel and hotel booking service listed on NASDAQ. GWAC hotel reservation service is handled by our Chinese travel consultants, so you always get personalized service to cater your needs!
Today's hot deals and more .
| | | | |
| --- | --- | --- | --- |
| Mogao Hotel | | USD18 | |
| Grand Sun Hotel Dunhuang | | USD31 | |