China Travel Service for Americans
From Los Angeles in English and Spanish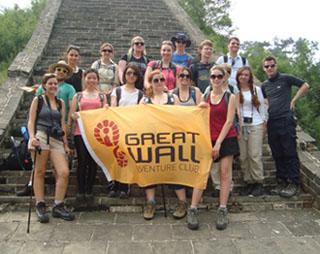 Based in USA and China, we know Americans better
than any Chinese travel agency. Explore
the real China with one of the preeminent
China travel specialists. We were the official travel guides for numerous Olympic teams, such as U.S. Softball Group, as well as the NBC-Beijing Television crew and Google team.

Check our tour packages designed
for Americans.
People from Those
Organizations Used Us

China Tour from Los Angeles
Tips for China Visa, China Flight, China tour packages
Book your China tour directly from Great Wall Adventure Club to save your China tour cost. By dealing with us, you save the "middle man" charge without seeking China packages from your local China tour agent in Los Angeles.

Try our world-famous Great Wall adventure and experience the real Great Wall! This is probably the first thing you want to do during your China travel!




Planning a trip to China from Los Angeles can be intimidating. There are a few things to do before you travel that are required, like ensuring your passport is current and getting a visa for China. Then you'll need to do some itinerary planning to make sure you see everything you want to and have time for. And of course, you will want to do a little reading on etiquette and how to get around China. A little pre-trip planning will help you have a fantastic trip during your travel to China.

The People's Republic of China currently maintains one embassy in Washington D.C. and five consulates in New York, Chicago, Houston, Los Angeles and San Francisco. You should apply for your visa about 1.5-2 months before your actual trip, just to be safe. For visa requirements, please see the visa section in "China tour from the USA". As a resident of the Los Angeles area, you should use the Los Angeles consulate in obtaining your tourist (L) visa. Here is the address for the Los Angeles consulate:

Chinese Consulate-General in Los Angeles, CA
Visa Office: 3rd Floor, 500 Shatto Place, Los Angeles, CA 90020
Tel: 213-807-8006
Fax: 213-380-1961
Email: visa@chinaconsulatela.org
Website: http://losangeles.china-consulate.org/eng/
Hours: M-F 9:00 a.m.-3:00 p.m.

Great Wall Adventure Club will send you an important invitation/confirmation letter to endorse your visa application.

For those living in Los Angeles, flying to China is incredibly easy and convenient, as a plethora of direct flights to Beijing, Shanghai, and Hong Kong leave from the city's international airport (LAX). Websites like eLong, Expedia and Orbitz are all great resources when it comes to booking flights from Los Angeles to China. Airlines offering flights to China include:

United Airlines, Air Canada, Asiana Airlines, Korean Air, Dragonair, Air China, China Eastern, China Southern, British Airways, Virgin Atlantic, Swiss Air, Continental Airlines, American Airlines, Delta Airlines and Cathay Pacific.

Of course, in a country as vast as China it can be pretty daunting in determining where to go and what to see. Here is a top 10 list of China's most popular attractions, which will give you an idea on the type of tour you want.

The Forbidden City: The Forbidden City, or Palace Museum, sits at the center of Beijing, directly north of Tiananmen Square where the famous portrait of Mao Zedong hangs on the palatial crimson wall. It was the imperial seat for Ming and Qing dynasty emperors from 1420 until 1912 when the last emperor, Pu Yi, abdicated. It was listed as a UNESCO World Heritage Site in 1987.

The Great Wall: The Great Wall winds its way across China covering over 5,500 miles (8,850 km). While the latest construction occurred after 1368 during the Ming Dynasty, construction of the Great Wall began over 2,000 years ago. In fact, the Great Wall is actually made up of a number of interconnecting walls spanning China that different dynasties and warlords constructed over the years. The most popular sections of the Great Wall are easily reachable from Beijing.
The Terracotta Warriors: Discovered in 1974 when a local farmer was digging a well, the terracotta army, buried in 210 BC with the first emperor of the Qin dynasty, is a breathtaking site. The thousands of life-size figures have individually unique faces and hair and armor styles appropriate to their rank. The museum of the Terracotta Army is located in Xi'An, Shanxi province.

Karst Mountains in Yangshuo: Illustrating the 20 Renminbi (Chinese currency) note, the karst mountains are famously beautiful in China. Located in the south of China in Guangxi province, they can best be viewed from Yangshuo, a small town outside Guilin, a major city in Guangxi Province.

Hangzhou: China's "Paradise on Earth", Hangzhou is a lovely city centered around the famed West Lake. This green city is full of gardens, tranquil temples, and pavilions and bustling historic streets to venture through. The hills surrounding the city grom the famed longjing tea. Hangzhou is close to Shanghai but is a much more laid-back, cultural city.
Jiuzhaigou: Jiuzhaigou Valley is a nature reserve located in China's Sichuan province. A beautiful example of China's varied landscape, Jiuzhaigou is famous for crystal blue lakes and multi-level waterfalls. It is populated by a number of Tibetan villages so is also a superb place to see and experience Tibetan local culture.

Potala Palace: Now a Chinese museum, the Potala Palace was traditionally the seat of the Dalai Lama, Tibetan Buddhists' spiritual leader. Famous for its imposing white walls surrounding the inner red palace, the building sits at 3,700 meters or over 12,000 feet. The Potala Palace is located in Lhasa, the capital of the Tibetan Autonomous Region.
The Bund: The Bund, meaning embankment, was historically the seat of Shanghai's most powerful businessmen in the late 1800s and early 1900s. The Bund is a fabulous place to see examples of Shanghai's rich architectural history, illustrated by the HSBC Building, built in 1923 and at the time said to be "the most luxurious building between the Suez Canal and the Bering Strait."

Giant Pandas: Heading out to Chengdu is a great way to get a taste of Sichuan as well as an in-depth understanding of Giant Pandas at the Breeding Research Base.

Hong Kong: See modern China - and Asia - at the cutting edge with a visit to Hong Kong. Walking down the Kowloon side promenade gives the traveler a view of some of the most beautiful modern architecture in China, dominated by the Bank of China Tower designed by I.M. Pei.


Our China tour packages were on Wall Street Journal

2010 was the year of the Shanghai World Expo, and Great Wall Adventure Club was dedicated to being the worlds #1 Expo tour agency. With our "Shanghai World Expo Travel and Package Tour" we had given our clients the beset World Expo experience possible while showing them more of the China that has brought so much acclaim and fascination to this country. Our Shanghai World Expo Tours came recommended by The Wall Street Journal in the article about Shanghai World Expo ("Shanghai Aims to Attract the World "). "For those booking their own flights, a package from Great Wall Adventures includes hotels, airport transfers, Expo tickets, guide and private car and driver; three days and two nights, $1,398 for two." (As of March 18, 2010).