Guangzhou Hotels in Tour Package

Lihua Hotel, Guangzhou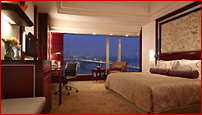 Shangri-La Hotel Guangzhou






Guangzhou And Shenzhen Essence Tour
About Guangzhou Local Tour

Guangzhou is the capital of Guangdong Province. With a history of over 2800 years, it has always been an important port for foreign exchanges and trade, and is still one of the largest ports in China. Here the China Export Commodities Fair is held every spring and autumn, which attracts businessmen from the world over. The places of historical interest include Zhenhai Tower, the Guangxiao Temple, Liurong Temple, Huaisheng Mosque, Dr. Sun Yat-sen's Memorial Hall, etc.
B=(Breakfast) L=(lunch) D=(dinner) DEPARTURE: Daily
TOUR ITINERARY

Tour code:


GWAC-GZ-04
DAY 01
Place & Transport: Arrive in Guangzhou, Flight not included
Today's Activities: Airport to Hotel Transfer (Guangzhou)
3 or 4 star for common; 5 star for deluxe
DAY 02
Chen Ancestral Shrine (1 hour): Chen Ancestral Shrine was built in 1867 in an architectural design and decoration in traditional Guangdong style. The temple is especially renowned for its beautiful craftsmanship. Historical figures, legends, and scenes are represented in many art forms, including wood carving, brick carving, pottery carving, brass and cast iron. These artistic and historical attributes make Chen Ancestral Shrine an important attraction in Guangzhou.

- Qing Ping Market (30 minutes): Qingping Market came into existence in 1979. It has over 2000 stalls along 1-km-long Qingping Lu and Ti Yun Lu in the north of Shamian Island. It is the largest street market in Guangzhou with multiple shops of Chinese medicines (including live scorpions!!), spices, fish, pets, and flowers. Over 60, 000 people shop in the market every day. It is a good idea to have a delightful walk after lunch through the legendary Qingping Market.

- Temple of the Six Banyan Trees (1 hour): A world famous ancient Buddhist temple, built 1460 years ago. The pagoda in it is quite colorful and houses some thousand Buddha statues, thus it has got another name "Thousand-Buddha Pagoda." The ancient temple features a towering colorful pagoda, luxuriant trees and historic and cultural relics. Because of the splendid pagoda, this temple was selected as one of the top ten scenic spots in Guangzhou.

- Sun Yat Sen Memorial Hall (1 hour): a memorial building built in 1931 with the funds raised by the Guangzhou people and overseas Chinese in memory of Sun Yat-sen.

- Lianxiang Restaurant: Lotus Restaurant is a restaurant with a history of over one hundred years. It is famous for its Cantonese cooking and Dim sun, especially the Moon cake.

- Yi Qi Ceramic: Yi Qi Ceramic is a famous shopping mall mainly dealing with the sales of ceramics. It showcases Chinese ceramic products of all types from sculptures to domestic goods.

(Breakfast, Chinese Lunch at Lianxiang Restaurant)

3 or 4 star for common; 5 star for deluxe
DAY 03
- Window of the World: Window of the World, as the name implies, is an assemblage of many of the most famous landmarks from throughout the world. The sites are geographically arranged according to the location of the landmark on a world map.

A night performance, accompanied by surrounding stereo sound effects and lighting, displays a panorama of world civilization on the shell-shape central stage, as well as on the flower-lined road and the elliptical fountain stage. This performance is an option in Window of the World.

- Belle Epoque Shenzhen: The restaurant is located near the Emperor State Building. It is decorated in a luxurious and elegant style. The restaurant specializes in French food and has the reputation of being best French restaurant in Shenzhen.

(Breakfast, Chinese Lunch at Belle Epoque Shenzhen)

(B+L)
3 or 4 star for common; 5 star for deluxe
DAY 04
Place & Transport: Depart Shenzhen, Flight not included
Today's Activities: Hotel to airport Transfer (Shenzhen) (B)
3 or 4 star for common; 5 star for deluxe
Tour Inclusions:

1. Hotels with daily western breakfasts;
2. Meals in accordance with that listed on the itinerary.
3. professional local guide & driver;
4. Private air-conditioned car or van for transportation;
5. Admission of the first gate.
6. Two bottles of mineral water per day.
Tour exclusions:

1. Tip of the guide
2. Personal costs