Shangri-la
Tours



Shangri-La is the "Eden in dream". Since it first appeared in British novelist James Hilton's Lost Horizon in the 1939, it has been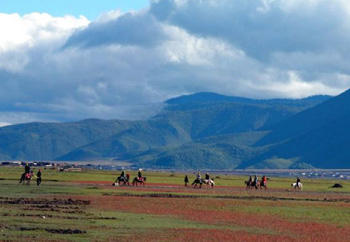 associated with the mystique of a place which could not possibly exist here on Earth. In Tibetan,Shangri-La means the "sun and moon in heart", an ideal home only found in heaven.There the lofty and continuous snowy mountains, endless grasslands, steep and grand gorges, azure lakes and the bucolic villages always leave a deep impression on visitors.

Located at point where Tibet, Sichuan and Yunnan all meet, Shangri-La County is administered by Diqing Tibetan Autonomous Prefecture, Yunnan Province. In the past, it was called Zhongdian or "Jiantang" in Tibetan. In ancient times, it together with Batang (in Tibet) and Litang (in Sichuan) was the fiefdom of the three sons of a Tibetan King. In 2002, Zhongdian changed its name to Shangri-La.

At an average altitude of more than 3,000 meters (about 9,843 feet), the county is very difficult to be reached. Without railways leading there, the chief means of transportation is motor vehicles. To get there, visitors will typically begin their journey in Kunming, traveling first to Lijiang and then taking the long-distance bus in Lijiang to get there. It's about 175 kilometers (108.74 miles) from Lijiang to Shangri-La. On this way, the Tiger Leaping Gorge can be seen.
The region is inhabited by many different ethnic groups, with the Tibetans comprising the majority of the population. There you will have an opportunity to experience Tibetan life and learn about their lifestyle, religion and cuisine. The unique scenery, highlighted by plateaus, together with the fascinating ethnic culture makes the land very attractive and charming to visit.

Shangri-La is rich in natural resources from valuable herbs to rich mineral deposits (including gold, silver, copper, manganese and many other rare metals) to abundant animal resources (such as golden monkeys, leopards and musk deer). This is a land full of natural wonders.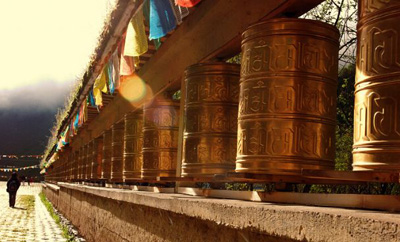 Many snow-capped mountains surround Shangri-la. Of these, the three well known ones are Meili, Balang, and Haba mountains. The Tibetans consider these mountains sacred. Meili Mountain is famous for its highest peak: Kang Karpo, towering over Yunnan at 6740 meters above sea level. Thirteen lesser peaks, each more than 6000 meters above sea level, surround it. Kang Karpo peak is shrouded in mists and clouds most of the time. Meili is one of the eight sacred mountains the Tibetans worship. Beneath Kang Karpo, the Mingyong and Sinong glaciers stretch down to a level of 2700 meters. Because of its changeable climate, Meili Mountain is fraught with danger and remains unconquered until today.

Baimang Snow Mountain, also called Baima Snow Mountain, is a nature reserve in China. It is home to the endangered golden monkey. Haba Snow Mountain is located in the southern part of Shangri-la County. It has the largest variety of animals and plants anywhere in China, and is known as the world's "gene bank" for plants.

As a Chinese saying goes, "The earliest sunrise is seen in Shangri-La; and the most unique place is also there". Once you visit, you will fully appreciate the meaning of this saying. In addition, the warm welcome of the residents of this land will make you feel at home.