Jiuzhaigou 4 days 3 nights Tour
About Jiuzhaigou Local Tour

It is said that if there should be wonderlands on the earth, Jiuzhaigou Valley must be one of them. There is no equal elsewhere that has sceneries and fables of dreamlike eloquence, or natural purities like a fairyland as Jiuzhaigou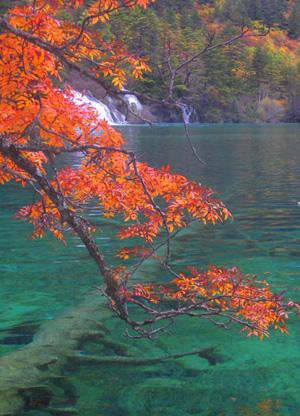 Valley.

Jiuzhaigou Valley is located in Nanping County, 450 kilometers (about 280 miles) to the north of Chengdu City. Its name is due to the existence of nine stockaded villages of Tibetan origin, and it is always regarded as a holy mountain and watercourse by the Tibetan people. Jiuzhaigou Valley is a great masterpiece of nature having dreamlike scenery and abundant natural resources. It combines blue lakes, waterfalls, verdant forests, snow-covered mountains, and the folk customs of the Tibetan and Qiang peoples. This region covers more than 600 square kilometers (about 230 square miles), and includes areas such as Shuzheng Valley, Rize Valley, Zechawa Valley and Zharu Valley, etc. The main beauty spots such as calc-sinter lake groups, waterfalls, and other waterscapes, as well as 12 summits make Jiuzhaigou Valley a wonderful appearance. Legend has it that long, long ago the deity of mountain named Dago had a crush on the goddess Semo, and he gave a mirror that was made from wind and cloud to the goddess. However, the devil appeared and made trouble to Semo. Inadvertently, Semo broke the mirror into 108 pieces, which fell down to the earth and then turned to 108 colorful lakes. The lake is also called Haizi by the local population.

Highlights:

• This park and valley is regarded by the Tibetan peoples as a holy mountain and watercourse. This enchanted valley combines blue lakes, waterfalls, forests, and mountains with dramatic peaks of snow. You will be able to fully explore this natural wonderland
• Jiuzhaigou is famed for its numerous lush forests, peaks, ponds, and waterfalls, and during your time here you will feel at one with nature, as everything around you is serene and heavenly
• Pick-up and drop-off from the airport/train station is included in the price of this tour
B=(Breakfast) L=(lunch) D=(dinner) DEPARTURE: Daily
TOUR ITINERARY

Tour code:


GWAC-JZG-01
DAY 01
Arrive in Maoxian (D)

By train or by plane, you will arrive in Maoxian county of Sichuan province, where Jiuzhaigou National Park is located. Upon arrival you will be met by your English-speaking guide, who will take you to your hotel for the evening.

Jiuzhaigou Valley is located 450 kilometers (about 280 miles) to the north of Chengdu. Its name is due to the existence of nine stockaded villages of Tibetan origin, and it is regarded as a holy mountain and watercourse by the Tibetan people. Jiuzhaigou Valley is a great masterpiece of nature, having dreamlike scenery and abundant natural resources. It combines blue lakes, waterfalls, verdant forests, snow-covered mountains, and the folk customs of the Tibetan and Qiang peoples.


3 or 4 star for common; 5 star for deluxe
DAY 02

A

Jiuzhaigou Nature Reserve (B)

Following breakfast, we will head to the Jiuzhaigou Nature Reserve, which is where we will spend the majority of the day. Jiuzhaigou is known for its numerous valleys, ponds, and other beautiful natural formations. You will experience the following during your two days at the park:

Swan Lake:

Lying in deep valleys, it is noted for its glittering water, and dense fir woods on the banks. On the shallow beach are flowering plants and grasses in complete quiescence. On its fertile soil, swans are frequent visitors, to in habit and regenerate. As the swan is a migrating bird. and flies far away and comes back as seasons change, few tourists can see them.

Panda Sea:

With an altitude of 2587 meters, Panda Lake is 14 meters deep, with an area of 90,000 square meters. This is also the haunting place of giant pandas. The rocks on the bank have special veins. Down in the water, there is a white rock with several black veins, looking exactly like a giant panda.


Pearl Beach Waterfall:

With the highest drop 40m and width of 310 meter, the Pearl Beach Waterfall drops from the cliff and forms a crescent waterfall. Walking down lily plank path, you will have a lull view of the waterfall. Its roaring, splashing, and rushing create the best water sight of Jiuzhaigou, because of tin; must rapid section of torrents here. The plank trail on the left of the rapids is the most ideal place to view the splashes of the waterfall.

Shangjijie and Xiajijie Pond:

Shangjijie Hai (Upper Seasonal Lake) is situated in a lush and luxuriant cal, while Xiajijie Hai (Lower Seasonal Lake) is closely next to Wucai Chi (Five Color Pond). Volume of the two lakes varies timely: sometimes overflowing, and sometimes dried up.

In rainy autumns, the water is rising, with a color of bright blue while turn glossy green in summers. In winters, they run dry, and throughout the bed grow up many grasses, making the lakes excellent pasture beaches. Precious plant - Ruoxiwichi, grows here in winters.

Following our day at the park, you will be taken back to your hotel for the evening, where the rest of the night can be spent at your own leisure.


3 or 4 star for common; 5 star for deluxe
DAY 03
Jiuzhaigou Nature Reserve (B, L, D)

Once again, this will be a full day for you to explore the vast expanses of Jiuzhaigou National Park. There is so much to see here, you will feel that after two days that you still did not have enough time. During the day you'll enjoy a nice picnic lunch, and dinner is also provided for you today.


3 or 4 star for common; 5 star for deluxe
DAY 04
departure (B)

Following breakfast you will be taken to either the local train station or airport, and you will depart for your next destination.



Tour Inclusions:

1. Hotels with daily western breakfasts;
2. Meals in accordance with that listed on the itinerary.
3. professional local guide & driver;
4. Private air-conditioned car or van for transportation;
5. Admission of the first gate.
6. Two bottles of mineral water per day.
Tour exclusions:

1. Tip of the guide
2. Personal costs