Chongqing Holiday Inn and Marriott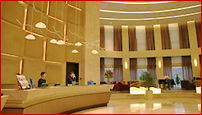 Holiday Inn, Chongqing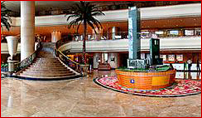 JW Marriott Hotel Chongqing






Chongqing and Dazu 4 days 3 nights Tour
About Dazu Grottoes Tour

Dazu Grottoes is situated 105 miles west of downtown Chongqing. The Dazu Grottoes are another outstanding example of later Chinese grotto art. There are more than 100 cliff carvings containing 60,000 sculptures spread over 76 different places, all mainly related to Buddhism. The content and craftsmanship of these carvings are best at the Beishan and Baoding hills. The art of Dazu that emerged in the late Tang Dynasty (618- 907) and flourished in the Song Dynasty (960-1127) represents an important chapter in China's cultural and religious history.

Highlights:

• Allow yourself to be awed by the famed rock carvings at Dazu, a UNESCO World Heritage site and a masterpiece of Chinese craftsmanship and culture
• As the fastest growing city in the world, find out what makes Chongqing one of the world's great metropolises
• Pick-up and drop-off from the airport is included in the price of this tour
B=(Breakfast) L=(lunch) D=(dinner) DEPARTURE: Daily
TOUR ITINERARY

Tour code:


GWAC-CQ-02
DAY 01
Arrive in Chongqing

You will fly into the Chongqing airport, and upon arrival you'll be met by your travel guide, who will then take you to your hotel. This huge city, both in terms of land size and total population, is near the end of the navigable part of the Yangtze River for large ships. It was a part of Sichuan Province, but it was made a "municipality" in 1997. In China, a municipality is a big city with a big territory. Chongqing is one of four municipalities in the country. It is a city with a long history, and it was important as an inland port near the rich Sichuan region. Traders came to Chongqing overland and by river. It is located at the place where the Jialing River meets the Yangtze River.

After you unpack your things, the rest of the night can be spent at your discretion. You might want to pay a visit to the nearby Pipa mountain, where after a short climb you will be treated to a bird's eye view of the city, which is even more incredible at night, with neon and lights that fill up the sky.


3 or 4 star for common; 5 star for deluxe
DAY 02
Chongqing (B, L)

Following breakfast in the hotel we'll get started with a visit to the Stillwell Musem. This former house was once used by the National Government as the house for distinguished guests. After General Joseph W. Stilwell's arrival in Chongqing on March 4, 1942, the place was made his headquarters and residence. Every time when he came to Chongqing during his two-year-and-eight-month service in China Theatre, the general lived here and conducted military conferences, held press meeting and met Chinese and foreign visitors.

The house was reconstructed and used be the government after 1949. It was turned into the Gen. Stillwell museum in 1991 by the Chongqing People's Municipal government. On display in the museum is an extensive display of mostly US-supplied photos, documents, articles and video.

After our time at the Stillwell Museum you'll learn a little bit more about the history of Chongqing at the Chongqing (also known as the Three Gorges) Museum. The museum has four big themes: "The Splendid Three Gorges," "The Very Ancient Ba Yu," "The Urban Development of Chongqing," and "The Anti-Japanese Days." There are displays of antique art. There is a large model of the entire dam project, and information is presented about this impressive engineering achievement. There are also films shown about the bombing of Chongqing during WWII by Japanese planes and about the natural scenery in the Three Gorges area before the construction of the dam.

One of the reasons the building was built was to house the relics from the sites destroyed by the construction of the 3 Gorges Dam. So you'll find displays of saved artifacts from sites all over the huge submerged area. The shape of the building itself is like that of a large dam. There is a blue sunscreen in front that may represent the water of the Yangtze River or the lake itself held by the dam.

There are also dinosaur skeletons on display that are from nearby Zigong in Sichuan Province and places around there. The Dashanpu dinosaur fossil site in Zigong held numerous fossil skeletons.

To cap off our touring for the day we'll take a stroll through the iconic village of Ciqikou.
It was once was a prominent market and trade town next to Chongqing. In the Ming Dynasty, it was a river port and market town. Goods were transported over land and water. Some buildings have been renovated and preserved. Along the streets are shops for porcelain and other items and many restaurants and snack shops. So while you are shopping, you can eat and drink beverages at the same time. Some of the teahouses have performances of traditional Chinese music. It is a place to see more of how Chongqing used to be, eat and shop.

Afterward, you can spend the rest of the evening at your own discretion.


3 or 4 star for common; 5 star for deluxe
DAY 03
Chongqing-Dazu-Chongqing (B, L)

After breakfast we will make the 105 mile drive to the county of Dazu in order to visit the world famous Dazu Grottoes. The Dazu Rock Carving was first excavated at the beginning of the Yonghui time of the Tang Dynasty. Experiencing the late Tang Dynasty and the Five Dynasties, it was very popular in the Southern Song and Northern Song Dynasties (A.D.960-1278). In the Ming and Qing Dynasties, more statues were carved. Finally, a large rock-carving group, which gathered the pith of China's rock carvings, was formed. It's equally famous with the Yungang Grotto, the Longmen Grotto and the Duhuang Grotto. It's hailed as the "Magic Pearl of Oriental Art" home and abroad.

Dazu is the home of Chinese rock carving, with more than 40 rock carvings and over 50,000 statues. Among them, two rock carvings, which are the most famous and on the biggest scale, are Baodingshan and Beishan. There are nearly 10,000 stone statues in Beishan. They mainly gather in Fowan, which is a U-shaped section of about 500 meters long and looks like a new moon. These rock carvings here were excavated in the Jingfu time of the Song Dynasty (A.D.892). The carvings have been continuously worked during the Five Dynasties, the Southern Song Dynasty and the Northern Song Dynast, and it took over 250 years until it was finally completed. These statues are lifelike and excavated elaborately. The most wonderful statues are several statues of Guan Yin, Wen Shu and Pu Xian. The rock carvings in Baoshishan are rare in the grotto art in China.

We will drive back to Chongqing in the late afternoon, and you will have the rest of the night to spend at your own leisure. You might want to sample some of the local food, which is part of the Sichuan family of spicy cuisine. The most popular choice of course, is hot pot. A booming business all-year-round, hot pot is a thriving local tradition in Chongqing. Come nightfall, hot pot restaurants and numerous sidewalk stands open for business. Adorned with strand after strand of colorful lights, hot pot businesses come in all different shapes and sizes. You will find that some are small, intimate shops, while others consist of only a few tables with umbrella covering for an alfresco dining experience. You can find these hot pot spots easily on many lanes and streets. On average, a hot pot dinner should cost no more than 20 rmb per person.


3 or 4 star for common; 5 star for deluxe
DAY 04
Chongqing-depart (B)

After breakfast in the hotel you will be taken to the Chongqing airport, where you will fly on to your next destination.
Note:
Currency change rate: 1 US$ ≈6.8 yuan (RMB)

Tour Inclusions:

1. Hotels with daily western breakfasts;
2. Meals in accordance with that listed on the itinerary.
3. professional local guide & driver;
4. Private air-conditioned car or van for transportation;
5. Admission of the first gate.
6.Two bottles of mineral water per day.
Tour exclusions:

1. Tip of the guide
2. Personal costs