Highlights:
• Watch the most famous martial arts show in China. For those that love action, adventure, and Bruce Lee and Jackie Chan movies, this is a must-see when coming to Beijing. The show has collected a group of the best Kung Fu practitioners of China and invited the best directors, designers, and choreographers in the country. A great show for kids as well!
• Pick-up and drop-off from your hotel is included in the price of the excursion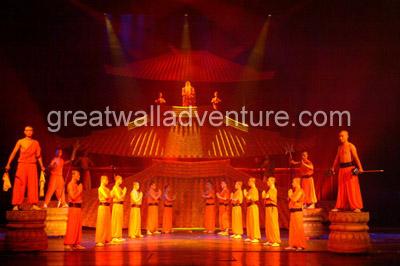 Detailed itinerary:
1. You will be picked up form your hotel at around 6:00pm, and from there we will drive to your evening's entertainment at the Red Theater, which will present its enormously famous and popular show, "The Legend of Kung Fu".
2. "The Legend of Kung Fu" is presented by China Heaven Creation International Performing Arts Co., Ltd. ( CHC)-- China's leading performance art production company. "The Legend of Kung Fu" follows the story of a young boy found wandering outside an ancient temple. Like every boy in China, he dreams of becoming a Kung Fu master. On the road to enlightenment the young monk encounters many difficulties and temptations. The show has English subtitles shown above the stage to keep you informed of the story line. The actors do not speak, and the show is all Kung Fu, dance and acrobatics. It is the fusion of modern dance with Chinese traditional arts, which make this performance unique and spectacular. The best Kung Fu practitioners from all over China have been found for this production and it shows on the stage. Their average age is just 17 years old! Additionally the costumes, set design and special effects are up to international standards, created by some of the best stage directors and designers in China. The show will last for about 1.5-2 hours.
3. After the show, you will be taken back to your hotel, where you will be dropped off.