Tiger Leaping Gorge (Hutiao Gorge)
-Adventures with Rafting and Trekking
About 100 kilometers (62 miles) northwest of Lijiang Old Town, and lying between Jade Dragon Snow Mountain (Yulong Xueshan) and Haba Snow Mountain (Haba Xueshan), is Tiger Leaping Gorge (Hutiao Gorge). Tiger Leaping Gorge is believed to be the deepest gorge in the world. From the top of the gorge you look down the steeply angled (70-90 degrees) mountain sides to the rushing Golden Sands (Jingsha) River with its 18 frothing rapids more than 200 meters (about 700 feet) below.
Naturally divided into three sections, the first section, which is the narrowest and uppermost section, is the mouth of the fast flowing Jingsha River. In the midst of the river's mouth is a large rock that is positioned at the gorge's narrowest section-only 30 meters (33 yards) wide.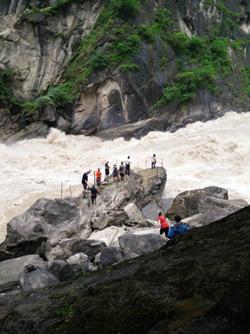 An ancient legend says that a tiger used this rock as its stepping stone so it could leap across from one side of the gorge to the other, which is how the place got its name.

As the river enters the middle section, it drops another 100 meters (330 feet) and its flow rate increases to an amazing speed. Here the thunderous rushing waters slam into sharp, large rocks and crash down into the river forming swirling whirlpools. Can it get more exciting? Yes, it can as the third and lowest section is acclaimed for being the wildest attraction of all!

The cliffs over-looking this section are even steeper and much more dangerous. Here, the river twists and turns and the river vigorously surges forward creating high waves and a frothy spew as it collides with the mountainsides. This is a view that inspires a sense of adventure and satisfies the deepest yearnings for magnificent scenery.

The gorge stretches about 15 kilometers (nine miles) and also affords people the possibility of rafting and drifting peacefully in its large quiet sections, for the gentler folks among us and an exciting rafting adventure for the more experienced. Do not want to raft?

Useful Tips: This is a great sightseeing stop with enormous photo opportunities. Bring your camera, wear skidproof shoes, and be prepared to be astonished!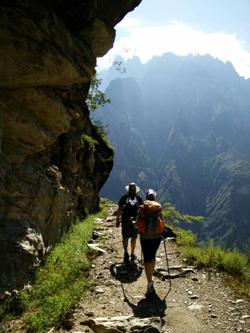 Trekking to Tiger Leaping Gorge