Bullet Train Tour to Pingyao, A UNESCO Old Town of China

2

-day express tour to Pingyao, Shanxi heritage site on bullet trains from Beijing

HIGHLIGHTS:


* Discover the ancient town of Pingyao, one of the only cities in China to maintain its ancient city walls and streets. Being here will transport you back in time to the China of yesteryear. The city is something of a living museum
* Tour the exquisite ancient Buddhist temples of Pingyao, which are haunting and captivating in their beauty, as well as being a gateway to the ancient traditions of China
* Your hotel will be in the style of a traditional courtyard, giving you a much more intimate and memorable experience than the normal hotel

Detailed Itinerary:

Day 1: Beijing-Pingyao (L, D)

You will take the morning bullet train D2001 (07:58 am) from Beijingxi to Pingyao Old Town. Upon arrival at the station at 12:13 noon, you will be met by your English-speaking guide and driver. We'll immediately get started on your tour. For much of todays touring, we will be walking within the ancient town of Pingyao, which is built in the style of traditional Chinese urban planning, which includes 4 main streets, 8 narrow roads, and 72 smaller lanes, all of which for a neat and logical grid.

The three-story Market Tower is the center and joint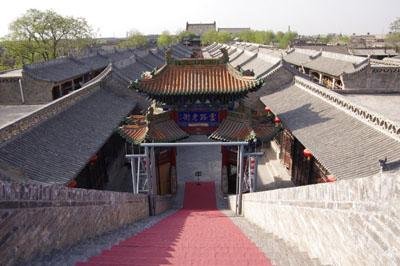 point of the city streets. The buildings such as Ancient City Government seat, Town God's Temple, Confucius Temple, Military God Temple, Wealth God Temple and Lucky Fortune Temple are arranged symmetrically. With its main streets forming a "干"shape, there are altogether four main streets, eight branch streets and 72 lanes in the city area. Having stood a long time weather-wearing, all these buildings show no sign of dilapidation. In front of the gates of some magnificent buildings and grand shops, deep ruts on the ground are still there to be seen, reminding visitors of its ancient busy traffic and commercial situation. The streets in this ancient town are broad and very well arranged. Dotted with memorial archways and decorated gateways, stretching one after another and high and low, the old houses and courtyards flanking the streets and lanes remind visitors of the long past and their ancestral places. Walking along the ancient streets, you seem to have landed in a world beyond the present one. 18.5 meters in height, and situated in the town center, the Market Tower is the highest building within the main street from the south to the north running through it. it is said the marketing was going on around the Tower all day long, thus it was named the Market Tower. Belonging now to the historical sites protected by the provincial government, it was renovated in 1688 during the Emperor Kangxi Period of Qing Dynasty, but people still don't know when it was first built.

Well come across the Ri Sheng Chang bank, which was the scene of Chinas modern banking and commercial business. As early as in 1824, Ri Sheng Chang bank had begun its business. Within a few years of its founding, its branch banks were rapidly distributed to Jiangsu, Shandong, Henan and Liaoning Provinces. Branch banks were also set up in such big cities as Beijing. Today, people can still trace its great prosperity of the bank groups nicknamed as the "Asian Wall Street" from the remaining bank and shop buildings along the West Main Street in ancient Pingyao City.

Youll have the chance to walk along Pingyaos ancient city wall, which is one of the only cities (along with Xian) in China to have its city wall intact. Built with rammed earth inside and brick and stone outside, the ancient city walls measure 10 meters high and 6162.7 meters long with 3-5 meters wide tops. Except the southern wall, which zigzags a bit according to the land contour, the other three walls all go straight, making the city area a square one. One city gate was built each to the southern to northern walls and two city gates were built each to the western and eastern walls. All six city gates have gate towers and inside gates attached to them. A watchtower was built on the wall top every 50-100 meters away, totaling 72 watchtowers in all along the four walls. From the wall you will have a great view of the ancient city center.

For the evening, you will be staying in a traditional Chinese courtyard hotel, a 4-star hotel located in the heart of the ancient town.


Day 2: Pingyao-Beijing (B, L)
Following breakfast, your guide and driver will help you with your luggage, and well get started on our sightseeing for this day. Our first point of interest today will be the Wang Family Courtyard. The Wang family courtyard is an example in handing down and inheriting the five thousand years' old Chinese civilization and a peak-usurping masterpiece of Chinese civil residence architecture of Qing Dynasty. It was built by the Wang family in Jingsheng, the posterities of Taiyuan Wang family, which in history had been one of the four large families in Lingshi County. It was successively built in the periods of Kangxi, Yongzheng, Qianlong and Jiaqing in Qing Dynasty. The architecture has a magnificent scale with five alleys, five forts, and five ancestral temples. The three architectural complexes of Gaojiaya, Red-gate Fort, and Chongningbao are all full closed fortress architectures on the Yellow High Land (loess high slope), which are closely connected with each other through bridges. They appear grand and harmonious with the surrounding environment and comply with the terrace in both form and meaning. While in the inside, cave houses and tile built houses get connected artfully and excellently.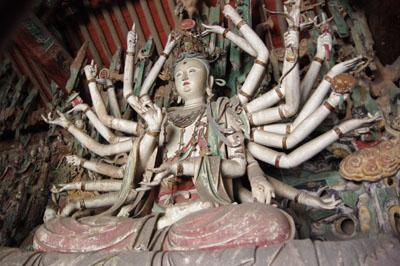 The two main courtyards of the Gaojiaya architectural complex are 3-year Siheyuan (quadrangles), which have separate kitchen yards and home school yards with a private tutor as well as a common classics-learning academy, flower yard, long-term hired farm-laborer yard and enclosed yard (servant yard), in addition to the sacrificial ancestral hall at high place and the embroidering buildings on both sides.

Our next destination will be the Shuanglin Temple. The Shuanglin Temple is reputed to be the ancient painted sculptures museum. The temple houses more than 2,000 colorful sculptures reflecting the exquisite skills of the artisans of the Song, Yuan, Ming and Qing Dynasties. The Shuanglin Temple was included in the World Heritage List by UNESCO as an important cultural site of Ping Yao City in 1997. Having a history of over 1,400 years, the Shuanglin Temple contains ten large and small halls, as well as the sutra chanting hall and the monks living quarters.

Following our visit to the Shuanglin Temple you will be driven to the Pingyaogucheng Station, where you will take the express train back to Beijing, or wherever else your next destination may be. Do keep in mind that Xian, ancient Chinese capital and home to the Terracotta Warriors, is very close by (D2509----1533/1821).