Located inside an authentic Hutong, Tianrui is the quietest and most intimate hotel on Wangfujing and Dongdan
The Beijing Tianrui Hotel has the absolute best location in Beijing, being in the middle of the city's most attractive and glamorous commercial, cultural and shopping center-Wangfujing and Dongdan. "Tianrui" means "Good fortune from the heaven" in Chinese.
The hotel neighbors St. Joseph's Cathedral, a gothic-style church built by missionaries that is over 400 years old, and from the hotel it is a 3-minute walk to Beijing's biggest, best and most modern shopping mall, Oriental Plaza, among the other large shopping malls and department stores. Wangfujing also includes many convenience and food stores, so if you ever need anything you can just make a quick run outside. Wangfujing is literally located in the center of Beijing, so you can avoid having to use a taxi, bus or subway to see the best shopping and entertainment that Beijing has to offer. In addition to having the best brand-name shopping, Wangfujing also now has the world's largest Apple store! Besides being China's best shopping district, Wangfujing is also home to the world famous night market. Here you can try some of the most exotic foods and snacks around, even scorpions on a stick!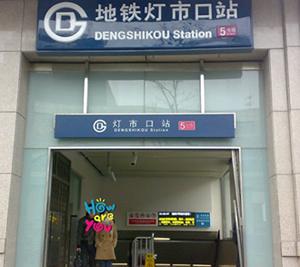 The hotel is within walking distance of two of Beijing's most famous landmarks, as it is 1.2 km (0.75miles) to Tian'anmen Square and the Forbidden City. It's also just 1.5 km (.93 miles) to the main railway station and a 40-minute taxi ride to the airport. In addition, the Beijing Tianrui is conveniently located neat two of Beijing's easy to use subway stations-Dengshikou Station on Line 5 and Wangfujing Station on Line 1.

The most vivid detail of the hotel is that it is inside a traditional hutong. Hutongs are traditional courtyard homes that formed the backbone of daily life and culture in old Beijing. It is the hallmark of Beijing architecture, and will give you a feeling of a journeying back in time. There are many historic sites that are just a stone's throw away from the hotel. In fact, just nearby the hotel is the old Department of Foreign Affairs, which housed the state department of the Qing Dynasty, China's last dynastic ruling class. While the hotel is in the middle of Wangfujing, the hutong setting gives you a sense of peace and serenity that you won't find at other hotels in Beijing.
But it's not all rooted in the past. The hotel's 24-hour service center can assist you with everything
from VIP check-in and express check-out, IDD, facsimile, internet service, flight ticketing service, information and traveling assistance and desk top computers to the simple and peaceful afternoon tea break.

The hotel is well equipped with guest rooms, a business center, high-speed internet, a Chinese restaurant and bar, as well as a private meeting room and parking lot that is ready to meet all of your business needs. The hotel recently completed an extensive set of innovations, with each room now having free Wi-Fi, LED TVs and new bathrooms. In terms of comfort, convenience and comprehensive service, it's the classic business hotel but with the setting and charm of a traditional Chinese home. The only drawback could be a hard mattress in a large bedroom, which is quite common in China.

Guest Rooms and Perks

Designed and furnished in the traditional Chinese style, it also has all the modern amenities you'd come to expect from a modern hotel. Each of the guest rooms comes with wood-paneled floors, individually controlled air conditioning, electronic door locks, IDD/DDD, satellite TV, free WiFi, private lock-box, refrigerator with mini bar, as well as internet access another special privileges.


Chinese and Western Restaurant and Bar

Qing De Yuan Restaurant is capable of accommodating 80-90 people at a time. The restaurant's breakfast provides a buffet of both Chinese and Western signature dishes, so everyone is happy! The restaurant includes over a dozen different types of tasty cuisines, desserts, and drinks. Qing De Yuan also offers tasty Chinese morsels that will give your taste buds a thrilling experience.

Location and Map


Please print the map for direction (especially when you take a taxi back).

BEST RATES IN WANGFUJING DOWNTOWN (Breakfasts and tax included)

Enjoy the special and unbelievable low rates ONLY available at Great Wall Adventure Club, the official partner of Wangfujing Tianrui Hotel of Beijing.