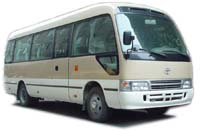 "Enjoying stay in the Beijing New Dragon Hostel. The price is cheap and people are friendly. Especially many thanks for the Manager Mr. Mike Wang for all his help. After this trip, we have already recommended my niece classmates from Oxford, UK come to stay at this hostel."

--Katherine Cheung, USA

Exclusive for Super 8 Member

Now every Hostel guest can receive an instant 15% off of our Beijing Bus Tours prices. Great Wall hiking for only RMB299 (exclusive for Super 8 customers). Signup now!
Location:

The Super 8 Beijing New Dragon Hostel has a fantastic location, smack right in the middle of Beijing's famous remaining Hutong area. The Super 8 hostel is located in the Dongcheng district, Beijing's historic old central district, and which contains many of the city's attractions. Hutongs are narrow alleys around courtyard homes that formed the heart and soul of old Beijing. The hutongs here are still inhabited by the same families that have lived there for generations, although the hutongs are quickly disappearing thanks to Beijing's modernization, so see them while you still can.
Being so close to the hutongs gives you a glimpse into the life of Beijingers that normal hotels can't provide. A quick two-minute walk from the hustle and bustle of Beijing's dynamic city life, the Super 8 Beijing Downtown New Dragon Hostel is a short walk from two of Beijing's biggest attractions, the Forbidden City, and Tian'anmen Square. The hostel is also adjacent to Wangfujing, Beijing's main commercial and shopping street that has been the center of Beijing's commerce for centuries. The hostel is also only 1.5km away from Beijing's central train station, and is a 32 km taxi or bus ride from the airport. It is about a 100 rmb (about $12 US) ride to and from the airport by taxi. New Dragon hostel is also located near the Wangfujing Subway Station, which is on the main central line of the city's subway system.
The address of Super 8 New Dragon Hostel is: 26 Shijia Hutong, Dongcheng District, Beijing 100010, China. Please click on the hostel map on the left column of this page and print.

Ambience:

While having the word "hostel" in its name, the services and amenities offered at New Dragon are anything but that. New Dragon hostel is spacious, clean, comfortable, and has top-quality service and staff. If you decide to book the suite room, then you will have a private bathroom. The hostel is located on a well shaded, colorful and brightly festooned tree-lined lane that captures the charm and lure of the Beijing of yesteryears.

Economy:

Our rates for single, double, triple, and standard or deluxe rooms are a fraction of what a large international hotel would charge. Moreover, unlike some hostels that have their facilities limited by their low rates, the New Dragon Hostel offers everything you would expect in a standard-service hotel: internet, laundry, breakfast, TV, as well as a helpful staff that can give you all sorts of hints and tips on your stay in Beijing. For those on a budget, the New Dragon Hostel goes beyond the call of duty to give you a first-class experience at a backpacker price.

Amenities:

At the New Dragon Hostel, you will have, in private rooms, a private shower and toilet, cable TV, air-conditioning, room phone, courtesy toiletries, fresh towels and bedding daily, secure card-locked access, which are all in addition to the services and amenities available to regular guests: international and local telephone service, free high-speed internet access, cheap beverages and snacks, travel and tour booking services, recreation room, a self-service kitchen and free laundry, common room and English-speaking staff who can help you with any problem and can also aid you in your Beijing and further China travel plans.

Charm:

Architecturally, the New Dragon Hostel is a paradigm of traditional Chinese design, from its classic tiled roofs to the cherry-red columns flanking its entrance, you can see how the Forbidden City rubbed off. The New Dragon Hostel harmonizes perfectly with the older, heritage and traditional buildings and homes along the quiet street on which it is located.

Peace of Mind:

In addition to the security features within each room, the New Dragon Hostel has a 24-hour English-

speaking staff of service and supervision at the reception area and on the upper floors.

Featured Hotel of the 2008 Summer Olympics:

The Beijing New Dragon Hostel was one of the featured hotels we used to accommodate international guests during the 2008 Summer Olympics. Our guests who stayed there raved about its intimacy, convenience, and comfort.
| | | | | | |
| --- | --- | --- | --- | --- | --- |
| Room Type | Single Room | Double/King-size Room A | Double/King-size Room B | Triple Room | Family Room |
| Price | $29.99 | $42.99 | $39.99 | $46.99 | N/A |
| | | | | | |
Single Room:
Area:13sq.m.; Floor:3.4; Single bed/Room capacity: 1 person; Broadband internet access (Free);
King-size Room or Double Room:
Area:18sq.m.; Floor:3.4; King-size bed or twin beds; 1 or 2 persons; Broadband internet access (Free);
Triple Room:
Area:21sq.m.; Floor:1.2; Single bed/Room capacity: 3 persons; Broadband internet access (Free);
Family Room:
Area:21sq.m.; Floor:1.2; 1 king-size bed, 1 single bed; King size bed/Single bed/Broadband internet access (Free);