Beijing-Xian One-Day Tour by Round-trip Flights
Highlights:
•Visit the Terracotta Warriors and Horses Museum , the greatest archaeological find in recent memory
•Walk upon Xian's still-standing ancient city wall, a magnificent achievement in human engineering.
•With airfare provided, this makes for a wonderful day trip for anyone who is looking to get out of Beijing and learn more about China's cultural heritage. A visit to Xian is a must for anyone wishing to learn about China's history.
* You can leave Xian to continue your tour to Shanghai by train or air at the end of this tour. You can also leave for any other any destination of your choice such as Tibet or Chengdu or Hong Kong.

Package Price

Price is based on the time of travel and number of customers. Please inquire through the form on the left side of the page, we'll quote the best price we can get. As this tour package involves domestic transfers, the package price will vary from time to time because of the changing airfares and hotel rates.
TOUR ITINERARY

Tour code:


XA-AIRAIR

At about 5 am, you head to Beijing International Airport to catch an early flight at about 7 am and fly to Xian, China's ancient capital and home to the Terracotta Warriors (flight time is 2 hrs and will either be on Air China or China Eastern airlines).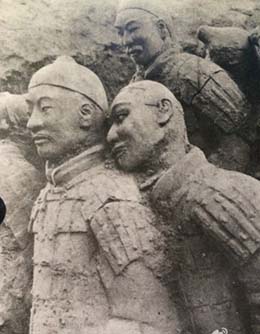 You will be met at the Xian airport by your travel guide and driver, and after getting picked up you will start your Xian tour. Will first go to see Xian's greatest attraction, and one of the greatest sites in all of China, the Terracotta Warriors and Horses Museum. The Terra Cotta Warriors and Horses Museum is the result of the most significant archeological excavations of the 20th century. Work is ongoing at this site, which is around 1.5 kilometers east of Emperor Qin Shi Huang's Mausoleum. Upon ascending the throne at the age of 13 (in 246 BC), Qin Shi Huang, later the first Emperor of all China, had begun to work for his mausoleum. It took 11 years to finish. It is speculated that many buried treasures and sacrificial objects had accompanied the emperor in his after life. A group of peasants uncovered some pottery while digging for a well nearby the royal tomb in 1974. Life size terracotta figures of warriors and horses arranged in battle formations are the star features at the museum. They are replicas of what the imperial guard should look like in those days of pomp and vigor.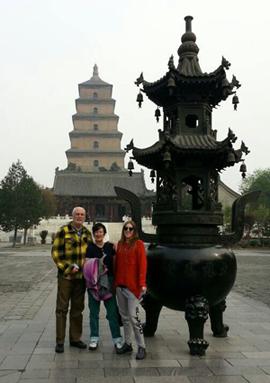 Following a Chinese lunch will drive to the city for more of your Xian tour. Will first go to the the Big Wild Goose Pagoda, a pagoda surrounded by a still functioning Buddhist temple (named Da Ci'en Temple). The Big Wild Goose Pagoda is one of the most famous Buddhist pagodas in China. The Pagoda was built in the Tang Dynasty (618-907) for the study of Buddhist scriptures. Although it has been attacked by centuries of weather, war and seismic activity, which destroyed most of the original material of the structure, a pagoda by this name and style still exists on the site.

You'll then get a chance to walk or take a bike ride around Xian's still functioning City Wall. Xian is one of the few Chinese cities that still has its city wall intact. Afterwards you will be taken to the Xian airport for your flight back to Beijing., Your guide will help you with the check-in process. Your return flight can be at 9 pm.



Optional Day 2:

See the pandas in Xian


Attention panda lovers! You can extend your trip to meet Giant Pandas in Chengdu now! Simply take China's famous high-speed bullet train from Xian to Chengdu, the home of pandas. It will take only three hours to get transferred to Chengdu and visit the Panda Reserve and Research Center. You'll return to Beijing or go to another destination from Chengdu. Contact us today to find out how you can visit this animal paradise!.