In the morning pick you will be picked up from the Chengdu airport by your English-speaking guide and driver. We will then drive to Chengdu's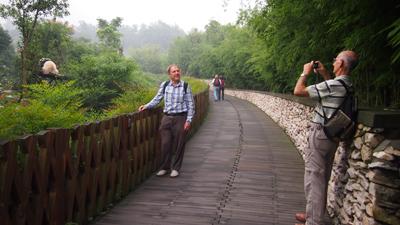 premier attraction, the Giant Panda Breeding Research Base. The base is located on Futoushan Mountain in the northern suburbs of the city. The Giant Panda Museum is located at the base, and it is the world's only museum that focuses entirely on the critically endangered giant panda. The museum's collection includes displays of panda habitat and of pictures of pandas, and there are many scientific displays that give visitors a comprehensive education on their characteristics, habitat and distribution in the wild, and China's conservation and breeding efforts.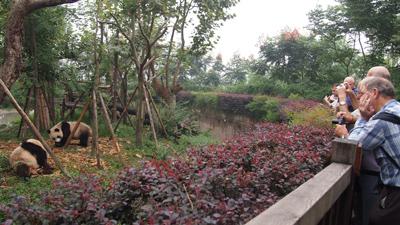 The Giant Panda Museum houses giant panda specimens, fossils and dissected pandas. Specimens of panda food is displayed, and the museum also houses many large true-to-life exhibits of giant pandas in their natural environment in ancient times and in their present endangered wild habitats in Qin Ling, Liangshan Mountain, Xiang Ling, Min Shan and Qiulai Mountain. These true-to-life exhibits cover an area of about 300 square meters. The museum educates visitors on their evolutionary history, their ancient and present distribution in the wild, and their current situation as an endangered species, as well as on the present purpose and focus of scientific research. You will see that the Chinese government is making a concerted effort both to protect this endangered animal and its habitat and to promote public awareness and appreciation of this animal that is beloved by people all over the world.
After visiting the Giant Panda Breeding Research Base, and if there is still time before your flight, we'll drive
back to the city area of Chengdu and take a walk down Jinli Street, which is considered by many a must-see in Chengdu.
Jinli Old Street is one of the oldest and busiest streets in the history of China. As early as the Qin, Han and Three Kingdoms periods, it was known throughout the country. This street, which is only 350 meters long, is a stage for life in Chengdu and showcases its features. You can taste the flavor of old Chengdu by seeing the age-old street, official residences, folk residences, teahouses, inns, wine bars, stages and handiwork; you can get a taste of authentic Chengdu flavor by trying local snacks and specialties. Expect to be fully enthralled by the glamour of the folk customs in Sichuan Province. Green tiles are placed in order and bluestone ways twist forward, making people feel as if time was turned back and they are in the past again. Tea, dishes, wine, play and brocades with local features appear before your eyes one after another, creating quite a feast for the eyes.
Following our walk along Jinli Street you will be driven to the Chengdu airport in the evening, where you will fly on to your next destination.