At about 8AM you will be picked up from your Chengdu hotel by your English-speaking guide and driver. From there we will make the 2 hour drive to Leshan Mountain, where you will get to witness one of the most incredible artistic achievements in history, the Leshan Buddha.
The largest representation of the Buddha in the world, the statue is of Maitreya (a Bodhisattva usually represented as a very stout monk with a broad smile on his face and with his naked breast and paunch exposed to view) in sitting posture. The Buddha is located to the east of Leshan City, Sichuan Province, at the confluence of three rivers, namely, Min River, Qingyi River, and Dadu River. The statue makes itself the most renowned scenic spot in Leshan City. In December, 1996, the location of the Buddha was included by UNESCO on the list of the World Heritage sites. Begun in the year 713 in the Tang Dynasty, and finished in the year 803, the statue took people more than 90 years to carve. During these years, thousands of workers had expended their efforts and wisdom on the project. As the biggest carved stone Buddha in the world,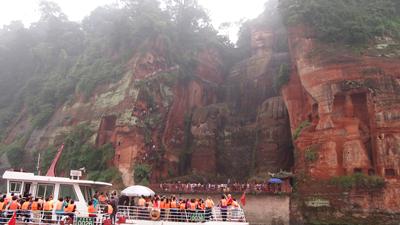 Leshan Giant Buddha is featured in poetry, song and story. Our visit to the Leshan Buddha will be complete with a river cruise, giving you a glorious vantage point (and photo op!) of which to view the Buddha.
We'll spend about 2.5-3 hours sightseeing, and then we'll have a delicious lunch of Sichuan cuisine at a local restaurant. Also known as Chuan cuisine, the dishes of Sichuan Cuisine are famous for their spicy-hot flavors, a spicy-hotness that Sichuaners call "dry hot", insisting that it differs from the "wet hot" spiciness of other cuisines. The difference, say, Sichuaners, is that the spices used to achieve "dry hot" spiciness consists of a mixture of dry ingredients such as crushed peppercorns (black, red and white) and dried, crushed chili, as well as Sichuan Province's own native pepper, huajiao ("flower pepper" from the prickly ash tree, Zanthoxylum bungeanum) that is of course first dried, then crushed.
Following lunch you will be dropped off at your hotel by 5PM.
Included in tour price:
1. Hotel pick-up & drop-off service,
2. English-speaking tour guide.
3. Air-conditioned tour van or bus.
4. Entrance tickets to the attractions as listed in the itinerary.

Not included in tour price:
1. All additional expenses not listed as included in the itinerary.
2. Tips/gratuities to the guide and driver for a well-done job.