Best Way to Travel to Tibet - by Sky Train
As getting to Tibet has become increasingly easy, so far there are three major ways to Tibet, i.e.by train, by air and by road. Some tourists may wonder which one is the best option. Given their different merits and demerits, the best way to enter Tibet is via Qianghai-Tibet Railway.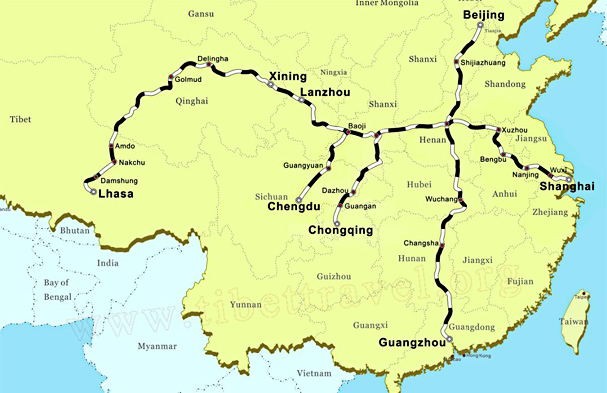 Breathtaking Scenery
Qinghai-Tibet railway radiates from major cities across China and tourists can easily go to Tibet by Qinghai-Tibet train, from Beijing, Shanghai, Chengdu, Guangzhou, Xining and Xi'an. Travelling to Tibet by train promises a wonderful experience as tourists ride on the railway with the world's highest altitude .
Check all the train routes to Tibet for details.
The whole Tibet train journey is full of countless breathtaking scenery, and the railway goes through the distant lofty snow-capped mountains, and passes prairie, wetland, nature reserve, etc. and tourists can enjoy varied wildlife running far away from the track. Scenery along Qinghai-Tibet train is second to none.
Better Acclimation to Plateau
Though flying into Tibet is the most time-saving way to Tibet, it costs more and most importantly it does not allow your body to have a gradual ascent to high altitude. Instead, travelling to Tibet by train can reduce the impact of altitude sickness for the train is pressurized, with oxygen supply facility for use; therefore enjoying the train journey gives your body a chance to get used to the altitude change, and you will only be aware of the subtle change of altitude when you arrive in Lhasa.
However if you have a tight schedule, flying to Tibet within two hours is absolutely your best choice. While for those who enjoy to challenge themselves, you can even drive to Tibet.
About Peak Travel Season in China
However, as the demand for Qinghai-Tibet train tickets is exceedingly huge during holiday travel rush season (e.g. traditional Chinese Spring Festival and summer and winter vacation for mainland Chinese students.) and some particular train routes like Beijing—Lhasa, Shanghai—Lhasa and Xian—Lhasa, we suggest tourists that let's say first fly from Beijing to Xining, and then take train from Xining to Lhasa, which will be more convenient and highly workable during the peak travel season. Meanwhile, the essence and highlight of Qinghai-Tibet train journey will be from Xining to Lhasa. And after you finish your Tibet tour, it's advisable to fly out because the train ride may aggravate your exhaustion.
Facts about Sky Train to Lhasa Tibet
Known as "Sky Train to Tibet'', Qinghai-Tibet railway is the world's highest railroad. Nearly half of the railway lies more than 4,000 meters above sea level .There are 45 stations along the 1972 km long Qinghai-Tibet railway from Xining to Lhasa and every station has unique scenery.
The geographic obstacles posed a huge challenge, but Chinese engineers made it. It took half a century to complete the construction. Numerous bridges and tunnels were built with a staggering amount of money spent throughout the construction.
Therefore, if a tourist has enough time, why not go to Tibet by train to have an eyeful of the breathtaking scenery along the world's highest railway and get a lifetime experience of the engineering miracle regarded by Forbes.
Popular Tour Packages

Lhasa tour for 4 days



Lhasa tour including three monasteries for 5 days



Lhasa to Lake Yamdrok for 5 days



Lhasa to Sky Lake Namtso for 6 days



Lhasa to Central Tibet and Lake Namtso for 8 days



Lhasa to Everest Base Camp for 8 days



Lhasa to Everest Base and Namtso for 10 Days
Tibetan Tour Guides Who Speak English!
Yes, we are the local, who were born, live and work in Tibet.