We, at the Great Wall Adventure Club specialize in Great Wall hiking. We love doing these trips as much as our customers love taking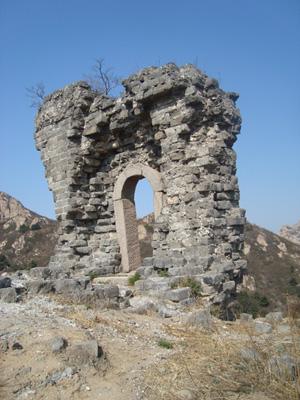 them! It is our heritage and we are proud to share it! However, we bypass the "tourist" sections, and put our effort into trekking along sections of the "wild" wall, those portions steeped in history, stretches which are of special architectural and/or historical interest, and of course spending time on those sections which are most stunningly-beautiful and photogenic. We have found that the most popular Great Wall sections to hike are the paths from the Jinshanling Great Wall to the Simatai Great Wall and from the Jiankou Great Wall to the Mutianyu Great Wall. Below is some information about both of these popular Great Wall hikes and links to the Great Wall tours we offer.
Great Wall Hiking Between Jinshanling and Simatai
Great Wall hiking lovers have long taken the rugged hiking route of Jinshanling-Simatai Great Wall, which is about 10 km in length. This Great Wall hike usually takes about 4 hours. Some say that the Great Wall hike between Jinshanling and Simatai gives you a truly "authentic" Great Wall experience. Trekking along the Great Wall with Great Wall Adventure Club, you can choose to go back to the city or camp overnight on the Great Wall, or stay overnight in local guesthouse.
As of January 2013, the Simatai porition of the Great Wall is currently closed for renovation. It is scheduled to reopen either later in 2013 or in 2014. For now, we will hike from Gubeikou to Jinshanling instead of the normal route.
Great Wall Hiking Between Jiankou and Mutianyu
This is one of our customers' favorite Great Wall tours! The hike transverses what residents call "the Wild Wall" – not only is the hike itself picturesque, but it combines the old with the new! Hikers start on an authentic, unrestored part of the Great Wall of Jiankou, and hike to the restored Great Wall section at Mutianyu, with its souvenirs and cold beer. This old section of the Great Wall is generally not well known by tourists, although it is often-frequented by local photographers, seeking to capture "authentic" photos of the Great Wall before restoration. Amateur photographers will love this hike! Please visit the Jiankou-Mutianyu hike's page.