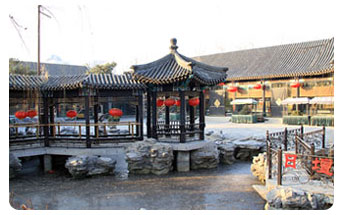 Ritan Park – the Temple of Sun – is one of the four royal shrines, and is the altar of the Sun. Built in 1530 it was used by Ming and Qing Emperors to make sacrifices to the gods. Now Ritan is one of Beijing's more peaceful parks. Certainly not as impressive or lively as the Temple of Heaven, Ritan is one of the best spots to see old folk practice t'ai chi, swordplay or twirling napkins in the morning without hordes of tourists flooding the place. Stop in for a rest at the Stone Boat Café or one of the other restaurants surrounding the park
Ritan (The Sun God Altar) was also known as Chaori altar, located in the southeast of outer Chaoyangmen in Beijing. The altar was built in the ninth year of Emperor Jiajing reign in the Ming Dynasty (AD 1530), and it was used to be the place where emperors in Ming and Qing feted the "Sun God". The altar was shaped as a square.
In 1951 the Beijing government decided to expand the altar to an area of 21 hectares for Ritan Park. Under the concern from Premier Zhou Enlai, construction of South, North Gate and Exhibition Showcase were completed. From then on, a series of construction were conducted. Mudanyuan, Shengchunyuan and other places of interest within the park were delicately arranged in the park.
Check our Beijing Bus Tour Programs. You can tour Beijing with our group bus tour programs for various routes.
Learn more about Beijing private and non-private tours.