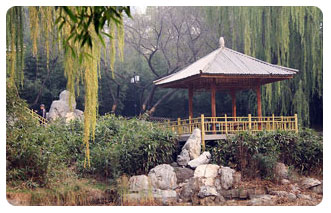 The Purple Bamboo Park (Zi Zhu Yuan Gong Yuan)

Historical records show that before the third century, Purple Bamboo Park's three lakes had been dug reaching the upper reaches of the Gaoliang (Sorghum) River, and a famous Gaoliang Bridge stood nearby to the east. In the 13th century, the lakes of Purple Bamboo Park served as a reservoir providing much of the needed water to the growing city of Beijing. In the late Yuan Dynasty, the mathematician and astronomer Guo Shoujing built a canal along the upper reaches of the Gaoliang River with locks to regulate the water diverted from the White River Dam, the Jade Spring Mountain, and other nearby waterways. Later, however, the canal was neglected and gradually became obsolete. During the Republican period it was filled in and rented out as paddy fields. After the revolution, the People's Government transformed the fields into a new park.

This location also has a network of lakes and canals to explore by boat or ice chair, as well as a spacious playground with a sea of balls, slides, rocking horses, and more. You could make it an enriching educational day by asking your children to pick out the ten plus different species of bamboo found on site. Check our Beijing Bus Tour Programs. You can tour Beijing with our group bus tour programs for various routes.
Learn more about Beijing private and non-private tours.