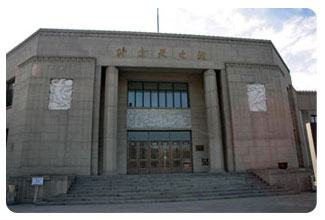 Beijing Planetarium
Beijing Planetarium located on Xizhimenwai Street, opposite of the Beijing Zoo. It is both a research and entertainment center, used to popularize science. It consists of two parts: Beijing Planetarium and Beijing Ancient Observatory, with the Ancient Observatory being located far away at Dongdiaobei Hutong.
There are two buildings on site, an older and a newer. The older planetarium building was built in 1957. It was the first planetarium in Asia and contains two exhibition halls, as well as the Celestial Theater which shows celestial phenomena in high definition. The newer facility has several exciting attractions: Digital Space Theater, 3D theater, 4D theater, exhibition hall, two observatories.
A trip to the Beijing Planetarium should really revolve around the four shows on offer daily – 'Cosmic Detective Kids', 'Escape from Dino Island', the 'Digital Space Theatre', and a 4D show – 'Walking the Cambrian'. As the names might suggest, this is really one to please the little ones (or those young minded).
Block A, housed in an older observatory building, contains exhibitions of cosmic images and telescopes. You can really tell that the planetarium gears itself towards a younger clientele because most things are positioned at waist-level, but there are plenty of interactive screens (Chinese only) and space projections to keep the experience lively for all. Men-Yung Wang
Reminiscent of a cinema, and with pervasive popcorn smells, Block B houses most of the screening theatres, with exhibitions focused on the ground floor. With sections dedicated to the sun, moon, planets and meteors, it covers all the basics for understanding the universe, with simple information set out in Chinese and English.
Check our Beijing Bus Tour Programs. You can tour Beijing with our group bus tour programs for various routes.
Learn more about Beijing private and non-private tours.