Tibet Tour Packages
SCENES & SIGHTS that we take you to these wonderful places in Tibet
Lhasa, Capital City of Tibet
At an elevation of 3,700 metres, Lhasa (meaning: "Holy Place") is capital of Tibet Autonomou Region and a famous cultural city with a 1,300-year history. Bathed in sunshine for more than 3,000 hours a year, it is also a "Sunshine City". Major landmarks: Potala Palace, Jokhong Monastery, Sera Monastery, Drepung Temple, Gaindain Monastery, Norbulinka Palace. Lhasa's original look and old lifestyle are largely intact at Barhkor Street in the old part of Lhasa, where all sorts of arts and crafts are on sale. Lhasa is linked with Beijing, Chonqing, Chengdu, Xi'an and Kathmandu by airlines. The Xining Lhasa and Chengdu-Lhasa highways also provide major accesses to Lhasa.
Potala Palace, Lhasa
Potala Palace in downtown Lhasa is a 41-hectare complex which came under construction during Songtsan Gambo's 7th-century Tibetan reign. Consisting of White Palace and Red Palace, with nearly 10,000 rooms, it was where the Tibet religious Dalai Lamas lived and handled political affairs. Housed in this castle-like palace are a wealth of Buddhist statues, murals, religious scriptures, and treasures in Tibet. As a precious legacy of Tibetan culture, the Potala Palace is a UNESCO-endorsed world cultural heritage site.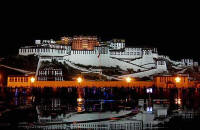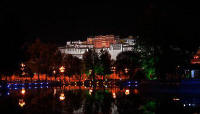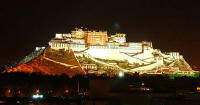 (Beautiful Potala Palace at night. Click to view large photos.)
Jokhong Monastery, Tibet
Jokhong Monastery, built in 647 as the earliest wood-masonry structure in Tibet, is dedicated to a statue of Sakyamuni. It is also in the possession of a collection of cultural relics dating back to the Tang, which include statues of Songtsan Gambo of Tibet and Princess Wencheng of Tang. Tang architectural elements are palpable in this monastery, a splendid four-floor building facing west under a gilded rooftop.
Xigaze, Tibet
A 500-year-old cultural city 3,800-metre above sea level, Xigaze is the site of Benchen Lamas' residence in the Tashilunpo Monastery. The world-famed Mount Qomolanma (8,848.13 metres) stands to the south of the city. The emblem of the city is the Tashilunpo Monastery, established in 1447, where the fourth Benchen Lama and his successors resided and conduct political activities. Covering a floorspace of 300,000 square metres, the monastery is enshrined with the world's largest gilded bronze Buddhist statue, the 22.4-metre-high statue of Champa.
Nyingchi Prefecture, Tibet
Nyingchi is a prefecture in the lower reaches of Yarlung Zangbo river. At an average altitude of 3,000 metres above sea level, it is home to Monbas, Lobas and some other ethnic minorities marked for their peculiar habits and custom of Tibet. Mount Namjagbarwa and the Yarlung Zangbo, 496.9 km long and 5,382 metres in maximum depth and believed to be the world's largest canyon, are the most alluring of all the tourist resources in this prefecture.
Shannan Prefecture, Tibet
Shannan, a prefecture 3,600 metres above sea level and with a mild climate in the middle reaches of the trunk Yarlung Zangbo River, was the cradle of the Tibetans. Among Shannan's cultural relics are Samye Monastery, Tombs of Tibetan Kings (Songtsan Gambo included), Chang-zhug Temple, and Yarlung River, a mysterious and breathtaking national scenic zone that showcases Tibet's snow mountains and glaciers, idyllic pastoral farms, alpine vegetation, historical sites, and folkways.
Ngari Prefecture, Tibet
Situated in northwest Tibet 4,500 metres above sea level (hence the "Top of the Roof of the World"), Ngari prefecture is sparsely populated and studded with lads and a paradise of such wildlife as yaks, antelopes and wild donkeys. The ruins, and the holy mountain and lake of the fable Guge Kingdom are found in Tibet.
Nagqu Prefecture, Tibet
Access to the northern Tibetan prefecture of Nagqu at an elevation of above 4,500 metres is made convenient by Xining-Lhasa Highway which runs right across it south and north. The exotic scenery of the holy lake of Namco (4,718 metres above sea level) combines with the unique lifestyle of the nomads to form an unusually idyllic landscape in this prefecture of Tibet.
Qamdo Prefecture, Tibet
The charming, fertile and vast land of Qamdo Prefecture embraces Hengduan Mountain, and Jinsha, Nujiang and Lancang rivers, and holds forth the fascination of wooded mountains, dense forests, age-old history and original folkways of Tibet.
Exploratory Expeditions, Tibet
Awesome mountains, an unpredictable climate, rapid rivers, alpine lakes, trackless jungles, and peculiar folklore are reasons why Tibet has caught the fancy of so many nature explorers, adventurers and mountaineers, who may contact travel services in Tibet for details of their prospective tours.