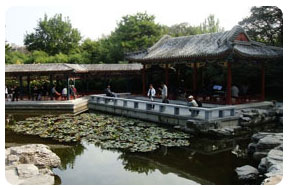 Ditan (The Earth Altar) was also known as Fangze altar and was awarded as the "national heritage protection unit" on June 10, 2006.
The altar is the second largest one of five ancient altars in Beijing. Ditan Park was built in the ninth year of Emperor Jiajing reign in the Ming Dynasty (AD 1530), and it was used to be the place where emperors in Ming and Qing feted the "Imperial Land God". The altar is also the largest one among the existing altars in China. The altar is shaped as a square and covers a total area of 37.4 hectares. The structure of building follows an ancient Chinese architecture rule of "round heaven and square land".
It is rare to see foreign people or tourists in the actual Temple of Earth in the park. The Temple itself is actually a very small (and underwhelming - when comparing with the Temple of Heaven) portion of the park. Aside form the Temple, the park offers a children's play arcade, water calligraphy (where tourists can purchase over sized brushes and "paint" with water on the cement.), food, and other attractions. The park is frequented by joggers and runners, and is a very popular place to do Tai Chi. Since the 1980s, traditional temple fairs have been held regularly during the Chinese lunar new year.
Check our Beijing Bus Tour Programs. You can tour Beijing with our group bus tour programs for various routes.
Learn more about Beijing private and non-private tours.