Being A Proud Panda Volunteer for One Day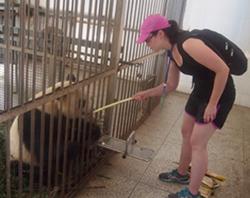 The Best Panda Volunteer Program
Highlights:
* Get up close and personal with China's most revered and iconic animal, the Giant Panda!

* Feed pandas, prepare meals for pandas, clean their houses, and learn how to care them.

* Receive a certificate of being a proud panda volunteer for one day in your life.
Panda Volunteer Tour

Tour code:


GWAC-PANDAVOL


Our panda volunteer programs offers our guests a full day experience of taking care of the giant pandas at the Chengdu panda reserve centers located in Dujiangyan and Wolong.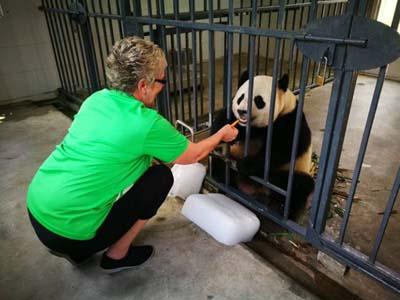 With a brief training by the professional care specialists, the volunteers will start with cleaning pandas' homes like custodians, preparing lunch for the pandas and feed the pandas. After the lunch break, the volunteers will clean pandas' mess and prepare for their afternoon desert and feed the pandas again. In the end, the volunteers will receive the certificates that they can show off their friends of having worked for the lovely pandas for one day in their lives. The entire volunteer work is from 9 am to 4:30 pm. So, this is a full-day adventure with the endangered animal.

Dujiangyan Panda Base is one and half hours away from Chengdu. It is a closer panda base that provides the volunteer opportunity. Founded in 2014, there are about 20 pandas raised here. The Wolong Panda Base is two and half hours away from Chengdu. More than 30 pandas are living in this center. Usually, we go for Dujiangyan which is closer. There is a limit of 25 volunteers per day for this center. Once the registration with this center is full, we will consider driving further to Wolong.

Qualified Ages of Participants: 12 to 65 years old.

Younger kids under 12 are not permitted to work as volunteers. But they do not have to feel bored. They can tour the center with our tour guides, watch their parents' work and watch funny panda videos. They can have a gourmet lunch together with their parents.

To get to Chengdu, you may fly from Beijing, Shanghai or any other major port of entries in China, or fly directly from the overseas with direct flight to Chengdu.

Many participants have a connection tour by visiting Xian where the Terracotta Warriors museum is located and taking a bullet train down to Chengdu for three and half hours. It is the China's latest bullet train line that connect the two major cities together. To learn more about this connection trip, please visit our Facebook page at https://www.facebook.com/GreatWallHikingCamping/posts/767666823416820 and https://www.facebook.com/GreatWallHikingCamping/posts/803848783131957.