Beihai Hotels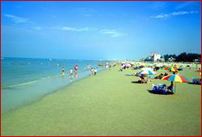 HOT Beihai HOTELS for
Best Accommodations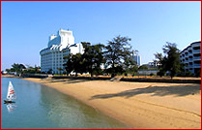 Photo: Beihai Furama Hotel




USD 32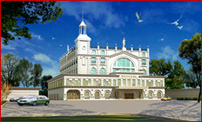 Photo: Beihai Hotel





USD 15
Beihai,Guangxi Discount Hotels, Hostels
Beihai is positioned on a broad peninsula and so the main seafront coast is to the north of town. The older part of town is along the seafront and on Zhongshan Lu, where mouldering colonial buildings add to the sleepily tropical atmosphere. The harbor feels best in the morning when the fresh catches arrive, and there's a fabulous fish market here selling every type and part of sea life imaginable.

Beaches and islands constitute the biggest attraction in Beihai. The Silver Beach is the ideal place for beach-lovers to relax and soak up the sun. On the volcanic Weizhou and Xieyang Islands you'll find an atmosphere of tranquility and mystery.

Great Wall Adventure Club (GWAC) has formed a partnership with China's largest online discount hotel reservation network eLong.com to offer 70% discount hotel rates of major hotels in China cities including Beihai. eLong.com is the only Chinese online travel and hotel booking service listed on NASDAQ.
Get a great deal in Beihai hotel reservation in now !

FREE SERVICE! Do you want us to assist you in finding an ideal hotel for you? Please shoot us an email to greatwalladventure@gmail.com. Simply tell us what you wish to get, for example, price, location, etc.. Our specialists will search for you for FREE and email you what we find within 24 hours.
Today's hot deals and more . . . US1.00 = RMB 8.11

| | | | |
| --- | --- | --- | --- |
| | Beihai Furama Hotel | | USD32 |
| | Shangri-la Hotel Beihai | | USD62 |
| | Lizhu Hotel | | USD38 |
| | beihai highway hotel | | USD26 |
| | Liyuan International Hotel | | USD26 |
| | Gofar Garden Paris Hotel | | USD15 |
| | Stone Forest Hotel | | USD24 |