Sleep in a watchtower on the Great Wall of China!
Guaranteed!
- Once-in-a-life Experience
made possible by the
Great Wall Adventure Club
Price Structure
| | |
| --- | --- |
| Group Size | USD p.p. |
| 1 | 699 |
| 2 | 449 |
| 3 | 399 |
| 4 | 389 |
| 5 | 369 |
| 6 | 349 |
| 7 | 339 |
| 8+ | 329 |



WHAT'S INCLUDED IN PRICE

* Personal transfers from and to hotel
* Entry fees to the Great Wall

* Two lunches, one dinner and one breakfast (delivered to your watchtower)
* The privilege of camping on the Great Wall and exclusive access to the camping watch tower
* All necessary camping gears such as tents & bags
* Quality vehicle, professional driver and English-speaking tour guide
* Free membership card
* A credit of RMB50 when you reserve the next tour with us


Guaranteed no detours to

shops or markets, etc.

Our Great Wall hiking is a private service. What this means is that you can hike on the Great Wall at any time at your convenience. If you would much

rather be part of a group for the experience for economic and social reasons

, we'll check to see if there are more signups for the same date as your own. We'll keep you updated whenever there are more. If you would like to keep your tour a private one, please let us know and we'll assign you a guide and driver.




Want to see more of the legendary Great Wall in all its beauty and splendor? Visit our Instagram page for a preview of what could be in store for you!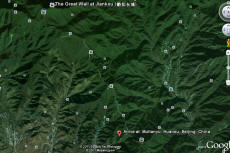 Day 1: Gubeikou-Jinshanling on Google Earth.
Click to enlarge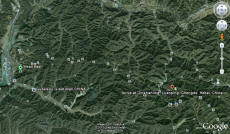 Day 2: Jiankou to Mutianyu on Google Earth.
Click to enlarge
TRAVEL INSURANCE
If you currently don't have travel insurance then you will be required to purchase our PICC (People's Insurance Company of China) travel and accidental insurance.
The fee will be $7.99 per person, and will cover the duration of your hiking/camping/trekking in order to ensure that you are comprehensively protected if injured.

For more information about our travel insurance policy please see our insurance page.




QUALITY VEHICLES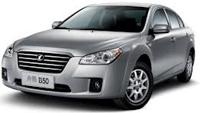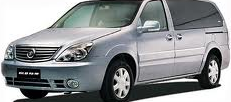 Sleep Overnight on the Great Wall with Intensive Hiking


Route 2AA: Two-day Overnight Camping & Hiking Tour to Great Wall
from the famous battlefield Gubeikou to Jinshanling, and from Jiankou to Mutianyu.
Enjoy your breakfast in watchtower with free delivery!

POPULARITY RANKING*:





*Ranked by the quantity of signups of all 2-day hiking routes.
Victory is always possible for the person who refuses to stop fighting. -Napoleon Hill
WELCOME TO THIS WEBPAGE!
Hello, and thank you for taking the time to visit our website! We know that making a choice about your China trip can be a very big decision, and that's why we want to make sure that you have as much information as possible at your disposal. No other tour operator will give you this much info, and we take it as a point of pride in making sure that our clients are the most informed before their departure. Unlike many Chinese sites, our pages are all in English, and if you find any issues or errors in anything you read, please do not hesitate to contact us. Once again, thank you for visiting Great Wall Adventure Club!



The outdoorsman: Stay overnight on the Great Wall of China
"When people come to the Great Wall of China, they want to explore the history and see why it was built. A day trip to the tourist sites won't achieve that, but a sleepover on one of the world's most storied ruins certainly will. The Great Wall Adventure Club organizes trips to sleep in a watchtower where soldiers were formerly garrisoned. When night falls, the only thing above is the stars, while the incredible land of the surrounding hills is absolutely silent ... " (June 11, 2012)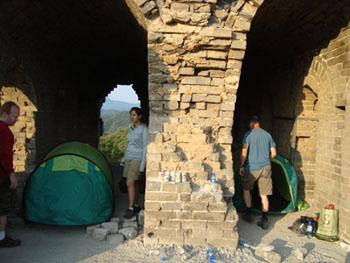 Guaranteed camping in an ancient watch tower!
A few agents claim they can do so but that's not true. What they usually mean is that they may take you to the foot of the Great Wall to camp on the ground or to sleep at a guesthouse. Not us. For each participant (even children), we must pay a hefty relic preserving fee to the Great Wall administration office. This fee allows for you to camp on the Great Wall, hence why the price for this program is higher than most. Great Wall Adventure Club (GWAC) is the only company officially approved by the Great Wall Administration Office to offer camping for international guests. This is what sets us apart from other operators.

Please keep in mind that during some sensitive political events, camping may be temporarily suspended because of increased police security around Beijing. We will do our best to keep you up-to-date on any changes or notices regarding this. Thank you for your understanding!
Farmotel Overnight
If you are not very keen about camping and prefer sleeping in one of our certified Great Wall farmotels,
HIGHTLIGHTS: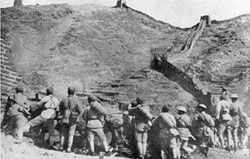 Once-in-a-life experience of sleeping on the Great Wall, which only ancient warriors could do in history. You'll camp on a watchtower surrounded by the Wall on the mountain!

Hike through the part of the Great Wall at Gubeikou that was effectively used as the battlefield in 1933 when Chinese army fought against Japanese invasion. In the four-month-long battles, over 5,000 Japanese soldiers were killed while 9,000 Chinese soldiers died.

See the really wild and unrestored parts of the Great Wall and get wowed for the marvels of human power.

Tour the four best places for a serious Great Wall enthusiast with terrific scenery and offers great opportunities for photographers. Meet with China's famous Great Wall photographer Mr. Duan Jiujun, visit his gallery and dine in his Great Wall restaurant.

All necessary camping gears such as tents, pads & bags are provided. For those of you curious about Great Wall camping conditions, please be advised that camping on the Great Wall is very rugged and adventurous, and you should expect a relatively low comfort level from what you're normally used to. Following dinner, we'll walk about 20-30 minutes to the camping site in the Great Wall watchtower. It is there we will set up the tent, sleeping bags, etc. Please be aware that this experience is significantly different from staying in a hostel/farmotel/hotel. The camping settlement is very basic, although we are constantly striving to improve this experience. Due to the high and heavy volume of camping equipment (tents, pads, sleeping bags, etc.) in use during your Great Wall hiking tour, we kindly ask that you give your guide a helping hand in getting your equipment up to the watchtower where you'll spend the night. We thank you for your cooperation and understanding!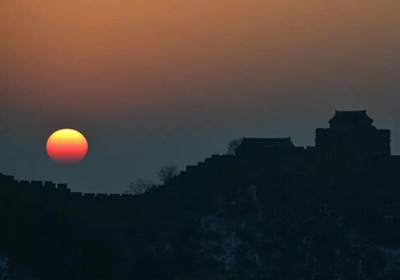 Our Great Wall camping tour from Gubeikou to Jinshanling and then from Jiankou to Mutianyu has been designed for the trekking and camping enthusiast and for anyone that wants to fully experience the mystery and excitement of the Great Wall. The part of the wall we will trek is the most breathtaking an dramatic part of the Great Wall in Beijing. If you dream of taking in the sunrise and sunsets from on top of the Great Wall, then join us now!
Gubeikou is partly located in a military region and thus is less known than either Jinshanling or other famed Great Wall sections. Jinshanling and Jiankou both feature dramatic "wild wall" along with great views of the wall twisting and curving over the countryside. Mutianyu, while partly restored, is still jaw-droopingly beautiful and is famed for its watchtowers. The 22km's distance on the Wall will take us about 10-11 hours hiking up and down on the range of the mountain in two days. It is not easy. Every participant must make sure your own health condition is fit enough for hiking activity!
A meteor shower, one of the most awe-inspiring and incredible feats of nature, is best viewed from a point where there is little man-made light and interference. For those camping or trekking on the Great Wall at night, you just might be lucky enough to see one on your hike. One of the best possible vantage points to see a meteor shower while on the camping on the Great Wall is from Gubeikou or Jinshanling.
Day-by-day Hiking Itinerary
(B = breakfast, L = lunch, D = dinner)

Day 1: Beijing-Gubeikou-Jinshanling
(L, D.

4.5-5 hours of hiking

)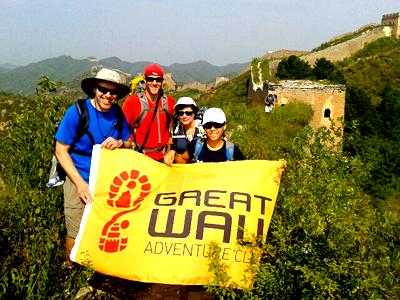 We will pick you up at about 9:30 am from your hotel, and drive directly to the Gubeikou section of the Great Wall, where we will begin our two-day hike on the wall. It is a 2.5-hour-long drive because Gubeikou is in another province called Hebei adjacent to Beijing.
Today we will hike for around 10 km/6 miles. Gubeikou is covered with over 140 watchtowers, all differing in size and design. From the wall here you will be able to witness how the wall twists and winds along the steep mountain ranges. This is as dramatic a view on the Great Wall as you'll find. If the weather is clear, you will be able to see the shimmering blue lake of the Miyun Reservoir. There is a section on the wall that is part of a military base, so you will be able to walk and explore a quaint nearby local village and re-enter the wall at Jinshanling.
There is a section on the wall that is part of a military base, and which is off-limits to civilians. You will be able to detour by walking and exploring a quaint nearby local village, and we will re-enter the wall somewhere close to Jinshanling. Please be advised that it may take up to one hour to bypass the military base. While walking away from the Great Wall, we'll still be able to see the Great Wall from a short distance. After going through this detour, we'll get back to the Great Wall and enter via the section of Jinshanling

The Jinshanling Great Wall, a UNESCO World Heritage Site, while 1/4 of it is restored, is not nearly as crowded as Badaling or Mutianyu, allowing you to have a more intimate experience with the wall. This afternoon, you'll watch the sunset while walking along the Wall.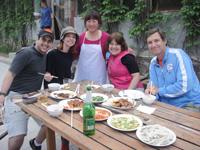 Then we'll take you to have a gorgeous Chinese countryside style dinner served by a local housewife (Photographer Mr. Duan's wife, middle in the left photo) and her niece with traditional Chinese dishes and dumpling. Mr. Duan is famous for Great Wall photographing and is a winner of several national awards. In his restaurant, his wife will serve you Kong Pao Chicken, Stewed beef and potato, Green Pepper and Pork, Fried Tofu in Spicy Sauce, Fried Egg Tomato, Sweet and Sour Chicken, and lots of vegetables (great for vegetarians), and soup. She changes her menu daily so you may have some different dishes on a certain day. What's more important is that all the vegetables she uses are planted in her yard, so it is organic and fresh! Rice and Chinese dumpling are also fresh and of genuine local flavor. Free drink and free beer!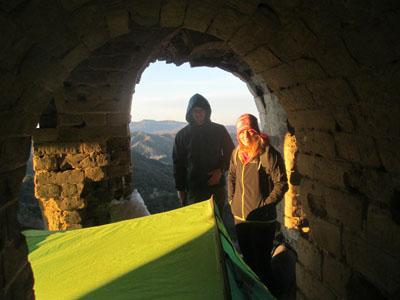 After the meal, we'll take a break. You can chat with the Duan and visit his mini gallery. As the winner of several photographing contest, he's happy to share his experience in taking Great Wall photos.
Then, before it gets dark, we'll go up to the mountain and sleep overnight in a watch tower. We'll prepare the necessary camping facilities such as sleeping bags so you don't have to bring anything but yourself. Here it is the sound sleeper's paradise - let the mountain valley and the Great Wall echo your snoring sound!
If you prefer sleeping in a local hostel or a farmer's house, you certainly can without extra charge. However, on a raining day with thunder storm in summer or with snow in cold winter, we'll only overnight in a local hotel for safe. Temperature on the Wall is usually 10 degree Celsius lower than the ground.

Day 2: Jiankou-Mutianyu-Beijing (B, L.

3-4 hours of hiking

)

First thing to do today is to watch the magnificent sunrise in early morning. After a brief breakfast, we'll drive to Jiankou and start hiking at Jiankou for Mutianyu. The Great Wall at Jiankou is located in the district of Huairou, about 80km/50 northeast of Beijing. You'll get to a village called Xizaizhi at the bottom of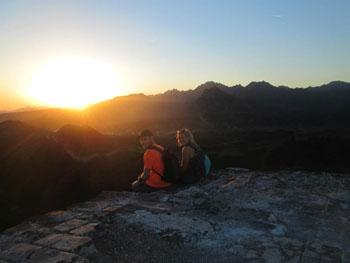 Jiankou Great Wall. In order to hike on Jiankou, first we have to climb up a path for about 60 minutes to reach the Great Wall. Our hike today will take about 4 hours and will cover 10km/ 6 miles.

The Jiankou section is known for its ruggedness and wild beauty, and you will be in awe of the marvelous views it affords. As soon as we reach Jiankou we will see a deserted watchtower that gives you a panoramic view of the entire valley. In the early morning the view is priceless with its morning fog. This section of the wall is not well known by tourists, although if you see a picture of the Great Wall from exotic traveling magazines, chances are it is from Jiankou. This is the pinnacle of exotic Great Wall scenery.

This part of the wall is often empty, so you will have some peace and serenity on your hike today. Another highlight of Jiankou is the enemy observation tower known as, "Ying Fei Dao Yang", so named because this watchtower was erected on the highest peak in the area, and eagles and hawks often perch on it. Although the majestic wall is slowly being conquered by small trees and brambles, but the view from the top is still stunning!

From Jiankou we will cross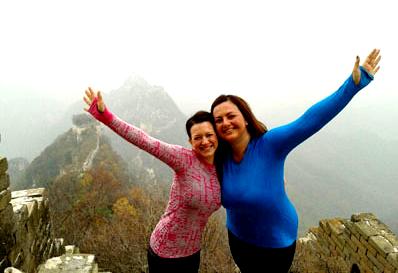 over onto Mutianyu, a section of the wall that has been largely restored. Although it has gotten a face-lift, it avoids the army of tourists that plague Badaling. Mutianyu offers some breathtaking views of the valley and wall below, and if you look to your right you'll see a large sign engraved in the side of the mountain encouraging you to "Cherish the teachings of Chairman Mao". Mutianyu has also become popular for visiting foreign leaders and celebrities (former U.S. President Clinton visited Mutianyu on one of his trips to China).

You can hike down to the parking lot, take a cable car, or take a toboggan ride (highly recommended, and lots of fun!) down to meet our driver. We will then have a lunch at a local restaurant. We will then drive back to Beijing and drop you off at your hotel in the afternoon, anytime between 3 and 5 depending on the traffic. This trip can be taken at any point in the year. Even in winter the snow-covered wall makes for perfect scenery.




Mutianyu Toboggan (German technology)
Optional Toboggan Run at Mutianyu (extra for $9)

You'll surely be intrigued about taking the toboggan down from Great Wall to the entrance gate down the hill. You can ride as fast or as slow as you want. However, it is also a driving test. One person to a toboggan, you have a little handle with which you press down to go faster and pull up to stop. But if you are not intentionally pushing it, it will slow down anyway. "It is funny when we Westerners are on there, because we like to go a bit quicker than the Chinese (read a lot quicker) and you hear the shrill voices of locals shouting "brake! brake! Slow down!" It is hilarious. Go on it even if it is just to hear that." --

taylorstonebridge

on LonelyPlanet

People at age 70 have managed the riding successfully. Can you?
Included:


*Entrance fees
*Round-trip transportation
*Overnight camping and facility or local farmer's house or hotel
*Meals (two full lunches, one dinner and one breakfast)
*Expert English-speaking tour guide
*Great Wall Adventure Club membership card

QUICK LINKS TO:



1-day hike |

2-day hike |

3-day hike |

4-day hike |

5-day hike |

7-day hike |

9-day hike |

12-day hike |

Bus Tours
FAQs about Two-Day Great Wall Camping Tour
Q: How far of a drive is it to the Great Wall for Day 1 (hours, please)?

A: As we drive on highway from Beijing to Gubeikou Great Wall, so the time is 2 hours for the car, for coach about 2 hour and half. (one way, if there no traffic in downtown Beijing.)

Q: How far of a drive is it from the Great Wall for Day 2 return (hours, please)?

A: 10 to 15 minutes more than Day 1.

Q: How far do we hike on Day 1 (kilometers, please)?

A: Normally, 5 hours at the first day, it depends on the health conditions of participants.

Q: Is there any drinking water available at the first camp site?

A: We will take our drinking water with us.

Q: If not, how much water do you typically recommend for 2 Day Hike (liters, please)?

A: In summer, it could be used about 5-6 bottles, in winter 1 or 2 bottles. It shoud be enough to drink about3-4 bottle in spring and autumn.

Q: Do we need shelter for the evening -- a tent?

A: Yes, we take camping equipment (like tent, sleeping bag, sleeping mat) with us, the local people will take it on the camping site.

Q: How far do we hike on Day 2 (kilometers, please)?

A: about 10mk, it takes about 4-6 hours of hiking.
Q. Where do we sleep at night? In a room or in a tent? Do you expect us to bring along the tent, or will you provide this?
A: This program features camping on the Wall at night. We will provide the camping gear like tent, sleeping bag and sleeping mat, but impossible to have a shower. If you prefer to stay in a local family's home or when the weather is poor, you can be placed in a local farm inn.
Q: Do we have options about the food to be served? What will be served during hiking? As I am a vegetarian, I would like to check that beforehand to avoid any surprises.
A: We could provide vegetarian food if you told us before. Lunch and dinner will be arranged at local family's home, generally provide Chinese food with both vegetable and meat. We'll serve Chinese-style "continental" breakfast.