Sleep Overnight on the Great Wall with Intensive Hiking


Route 2AA: Two-day Overnight Camping & Hiking Tour to Great Wall
from the famous battlefield Gubeikou to Jinshanling, and from Jiankou to Mutianyu.
Enjoy your breakfast in watchtower with free delivery!

POPULARITY RANKING*:





*Ranked by the quantity of signups of all 2-day hiking routes.
Victory is always possible for the person who refuses to stop fighting. -Napoleon Hill

See this thrilling route on the map .



The outdoorsman: Stay overnight on the Great Wall of China
"When people come to the Great Wall of China, they want to explore the history and see why it was built. A day trip to the tourist sites won't achieve that, but a sleepover on one of the world's most storied ruins certainly will. The Great Wall Adventure Club organizes trips to sleep in a watchtower where soldiers were formerly garrisoned. When night falls, the only thing above is the stars, while the incredible land of the surrounding hills is absolutely silent ... " (June 11, 2012)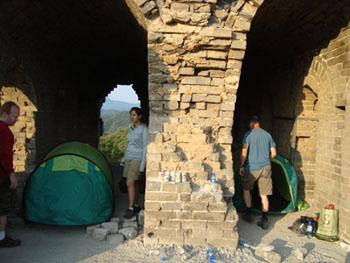 Guaranteed camping in an ancient watch tower!
A few agents claim they can do so but that's not true. What they usually mean is that they may take you to the foot of the Great Wall to camp on the ground or to sleep at a guesthouse. Not us. For each participant (even children), we must pay a hefty relic preserving fee to the Great Wall administration office. This fee allows for you to camp on the Great Wall, hence why the price for this program is higher than most. Great Wall Adventure Club (GWAC) is the only company officially approved by the Great Wall Administration Office to offer camping for international guests. This is what sets us apart from other operators.


Farmotel Overnight
If you are not very keen about camping and prefer sleeping in one of our certified Great Wall farmotels,
Hightlights: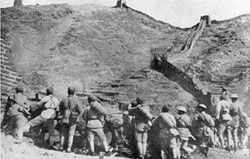 Once-in-a-life experience of sleeping on the Great Wall, which only ancient warriors could do in history. You'll camp on a watchtower surrounded by the Wall on the mountain!

Hike through the part of the Great Wall at Gubeikou that was effectively used as the battlefield in 1933 when Chinese army fought against Japanese invasion. In the four-month-long battles, over 5,000 Japanese soldiers were killed while 9,000 Chinese soldiers died.

See the really wild and unrestored parts of the Great Wall and get wowed for the marvels of human power.

Tour the four best places for a serious Great Wall enthusiast with terrific scenery and offers great opportunities for photographers. Meet with China's famous Great Wall photographer Mr. Duan Jiujun, visit his gallery and dine in his Great Wall restaurant.

All necessary camping gears such as tents, pads & bags are provided. For those of you curious about Great Wall camping conditions, please be advised that camping on the Great Wall is very rugged and adventurous, and you should expect a relatively low comfort level from what you're normally used to. Following dinner, we'll walk about 20-30 minutes to the camping site in the Great Wall watchtower. It is there we will set up the tent, sleeping bags, etc. Please be aware that this experience is significantly different from staying in a hostel/farmotel/hotel. The camping settlement is very basic, although we are constantly striving to improve this experience. Due to the high and heavy volume of camping equipment (tents, pads, sleeping bags, etc.) in use during your Great Wall hiking tour, we kindly ask that you give your guide a helping hand in getting your equipment up to the watchtower where you'll spend the night. We thank you for your cooperation and understanding!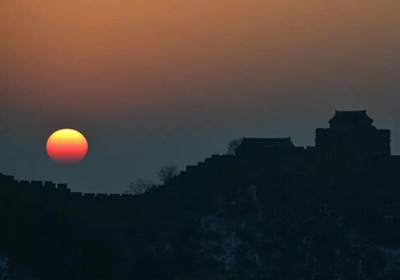 Our Great Wall camping tour from Gubeikou to Jinshanling and then from Jiankou to Mutianyu has been designed for the trekking and camping enthusiast and for anyone that wants to fully experience the mystery and excitement of the Great Wall. The part of the wall we will trek is the most breathtaking an dramatic part of the Great Wall in Beijing. If you dream of taking in the sunrise and sunsets from on top of the Great Wall, then join us now!
Gubeikou is partly located in a military region and thus is less known than either Jinshanling or other famed Great Wall sections. Jinshanling and Jiankou both feature dramatic "wild wall" along with great views of the wall twisting and curving over the countryside. Mutianyu, while partly restored, is still jaw-droopingly beautiful and is famed for its watchtowers. The 22km's distance on the Wall will take us about 10-11 hours hiking up and down on the range of the mountain in two days. It is not easy. Every participant must make sure your own health condition is fit enough for hiking activity!
A meteor shower, one of the most awe-inspiring and incredible feats of nature, is best viewed from a point where there is little man-made light and interference. For those camping or trekking on the Great Wall at night, you just might be lucky enough to see one on your hike. One of the best possible vantage points to see a meteor shower while on the camping on the Great Wall is from Gubeikou or Jinshanling.
Day-by-day Hiking Itinerary
(B = breakfast, L = lunch, D = dinner)