China Student Expedition and Travel Safety
for China Student Charity Trekkers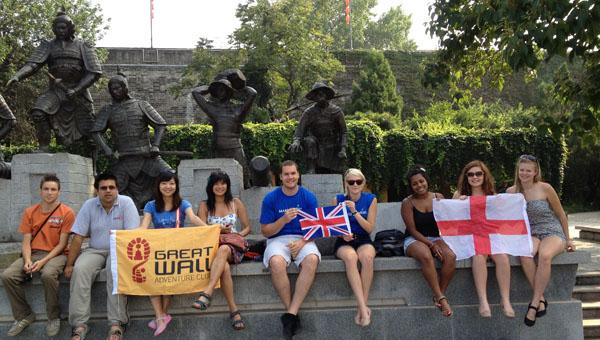 Student Adventure Group at Old Dragon's Head and Great Wall Museum.
While we put an emphasis on fun and teamwork when leading school expeditions, our overriding and No.1 concern is and always will be the safety and well being of our participants. We realize that a Great Wall trek that is un-safe in any way can be highly problematic and dangerous. Our inclusive and wide-ranging safety coordination system is designed to address all needs and concerns when it comes to our trekker's welfare. In 15 years of leading Great Wall treks, in addition to adventure travel throughout all of China, our safety record is 100%, and we plan on keeping it that way.

Our safety support system starts with our hike guides and leaders. They have been put through the rigors of the most demanding and comprehensive training available to trek leaders in China, and you won't find more prepared and professional guides anywhere in China's travel industry. We personally guarantee that our hike guides and leaders can competently handle any emergency that may occur. Our guides are prepared and ready for any and all situations that may arise, and have extensive training in first aid and risk management. In addition, all our guides are equipped with satellite phones and GPS devices. Before undertaking one of our school expedition hikes, we will conduct a meeting with all participants the day before to go over all the safety rules and guidelines that the hike will entail. One example of our guides' expertise occurred during he past summer. While leading a Great Wall trek one hiker suddenly came under a sudden case of psychosis. The guide handled the situation by immediately getting in touch with the local medical support staff, and stayed with the young hiker all night until he was safely cleared to resume physical activity. After the expedition we will review the expedition with all guides and leaders, where we will evaluate their travel reports and any suggestions made, making certain that any occurrence of risk or danger is minimized. This process continually improves our Great

Wall hikes.

In addition to our guides we put additional insurance from PICC on the existing insurance that every participant already has before undertaking this trip. PICC is China's largest casualty and accident insurer and is used by most travel agencies in China. PICC is also used by all of our on-duty travel guides. Because of its dedication to excellent service, PICC was an official partner of 2008 Beijing Olympic Games.
Furthermore, we will monitor the progress of the trek according to the itinerary through daily contact with guides during the trip. Of course, we will also continually confer and coordinate with our US and UK partners, ensuring that every school expedition is conducted up to their standards to the letter. We leave absolutely nothing to chance, and know that earning one's trust and confidence is the first step to a great and successful expedition.

Visit our new section for student travel and study-tour programs on www.newchinatours.com.