China Expedition Itineraries
from Great Wall Charity Trek


The following itinerary was followed by our most recent school expeditions, which we hosted in July and August of 2010.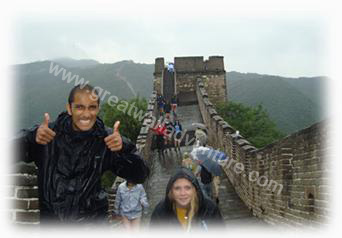 The 12-day Great Wall hike was an enormous hit, and the beaming faces and positive feedback when our CEO met with the returning trekkers was overwhelming. In fact, the experience was so successful for all involved that the same school expedition organization will return the next year with almost 400 students, which is almost a 100% increase. Please keep in mind that we can organize and lead a Great Wall hike that is any amount of days, not just 12.

Once the Great Wall trek is completed we can connect you with a number of incredible adventure tours in China. We can organize anything, from a quest along the Silk Road in western China, a visit to the tropical jungles and villages of Yunnan, and even a hike in Tibet. We also can organize sightseeing for any city in China, be it Beijing, Shanghai, or Xi'an. The choice is yours, as we can customize any type of tour for our US/UK partners.

The educational content of a school expedition can be increased through any number of courses dealing in Chinese culture. We can introduce participants to programs on Kung Fu, Chinese Medicine, cooking, acupuncture, calligraphy, or any other aspect of Chinese culture that participants are keen to learn. Once again, it is totally customizable.
Visit our new section for student travel and study-tour programs on www.newchinatours.com.






THE 7X Great Wall Odyssey Charity Trekking
We have developed the most challenging 7-day charity trekking on the Great Wall which offers at least five hours of daily walking on the wild Great Wall of China. Please go to our 7X Extreme Great Wall Odyssey program to learn how we'll organize for you for the toughness!