1. Your driver and guide will pick you up from your hotel between 8:00am-8:30am, thus beginning your day's tour.
2. Then we'll drive to our first destination, the place that made Xian known the world over, the Terracotta Warriors (driving time approx. 1 hr). The Terra Cotta Warriors and Horses Museum is the result of the most significant archeological excavations of the 20th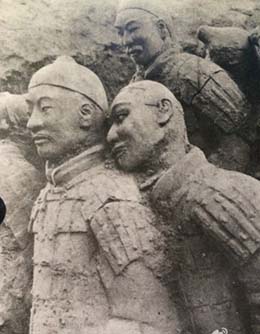 century. Work is ongoing at this site, which is around 1.5 kilometers east of Emperor Qin Shi Huang's Mausoleum (which we will take 30 minutes to visit after touring the Terracotta Warriors). Upon ascending the throne at the age of 13 (in 246 BC), Qin Shi Huang, later the first Emperor of all China, had begun to work for his mausoleum. It took 11 years to finish. It is speculated that many buried treasures and sacrificial objects had accompanied the emperor in his afterlife. A group of peasants uncovered some pottery while digging for a well nearby the royal tomb in 1974. Life size terracotta figures of warriors and horses arranged in battle formations are the star features at the museum. They are replicas of what the imperial guard should look like in those days of pomp and vigor. (4 hr)
3. Next we will take a break for some lunch. For lunch we will be having some Shaanxi cuisine, the provincial style of this area. Shaanxi Cuisine, also known as Qin Cuisine, is the representative culinary achievement in the northwest China. It makes frequent use of salt, vinegar, capsicum and garlic, making the savory flavor of sour, spicy and fragrant. (30 min)
4. Next, we'll indulge in a little shopping, and since Xian has seen so much history and activity, you're sure to find something interesting at the market we'll go to. Like in every market in China, bargaining is the norm. If you're a little shy your guide will be happy to lend you a hand! In addition, we'll also visit a terracotta factory, where you'll learn how they create the material that is famed the world over for its use in the Terracotta Warriors. (30 min)
5. By 12:30pm, you will be dropped off at your hotel, allowing you to have time for dinner and any other evening activities you want to do during your time in Xian. If you're looking for something to do this evening you can sign up for our night culture tour, or if you're looking at extending your stay in Xian and/or China than please head to our China City tour and China package tours pages to learn more about how to turn your China vacation into a China adventure!