Beijing Night Tour to
Longqing Gorge with Ice Lantern Festival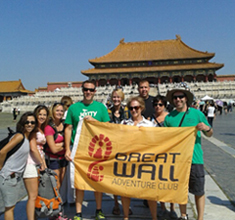 How much is this private tour?
(average per person)


| | | |
| --- | --- | --- |
| # of Head | in RMB | in USD |
| 1 | 980 | 149 |
| 2-3 | 690 | 105 |
| 4-5 | 590 | 89 |
| 6-9 | 550 | 84 |
| 10+ | 480 | 73 |

Kids under 3 are free;
15% for aged between 3 and 12.

Included:

*Private car and professional driver;
*Hotel pickup and drop-off


Longqing Gorge Ice Lantern Festival Night Tour
Ice Lantern Festival at Longqing Gorge
TOUR ITINERARY

Tour code:


GWA-BJ-N14
Highlights:

• Take an invigorating trip to Longqing Gorge, one of China's most pleasant scenic areas, as well as containing some of the most captivating and beautiful natural wonders, such as waterfalls, mountains, and dramatic cliffs and peaks. During the winter months, the gorge holds an Ice Lantern Festival, which showcases the gorgeous winter artistry of the region
• Pick-up and drop-off from your hotel is included in the price of the excursion


Detailed itinerary:

1. You will be picked up from your hotel at around 5:00pm, and from there we will make the drive to Longqing Gorge, which is 90km outside Beijing.

2. The gorge, reputed to be the 'Little Three Gorges', features clear waters, wooded mountains, curious stones and wonderful karst caves. The gorge's main attractions are the Longqing Gorge Cruise, Baihua (hundred Flowers) Cave, and the Shenxianyuan (Immortal) and Jingang temples. Near the entrance, a grand waterfall plummets down 50 meters (164 feet) from the dam above. A long, dragon-shaped escalator carries visitors to the dam, where the cruise begins. On both sides, eerie mountains and strange formations inspire visitors' imaginations as they have for centuries. You can marvel at the huge, natural Buddha stone and a hill rising from the water like a great bell. Another hill, named Fengguan (Phoenix Coronet) Isle, is considered the symbol of the Longqing Gorge. Fengguan is surrounded on three sides by water and closed off by high mountains on the fourth.

3. You can experience the four seasons, from the heat of the tropics to the heart of the northeastern China, thanks to the colorful lights and elaborately crafted flowers in Baihua Cave. In the Shenxianyuan Temple area, several huge stones halfway up the cliff resemble chessboards. It's said that rubbing on the trunk of the tree near the edge of cliff can cure illnesses, but no one dares get close because of the extreme danger. The Yuhuang Peak is the highest in the area, and the teahouse at the peak offers a wonderful position from which to appreciate the scenery. In the Jingang Temple area, a hill looking like a pen gently dips into the water as if it were clearest ink. A karst cave nearby, Minting Coins Stove, is the place where two brothers made fake money to save the poor in the Qing Dynasty (1644-1911).

4. For four months during the winter season, Longqing Gorge hosts the Ice and Snow Lantern Festival, during which many beautiful ice lanterns are displayed. We'll arrive at the main ice lantern area at around 7:00pm, and we'll walk among this winter wonderland for about 2 hours.

5. You will be driven back to your hotel, and you will be dropped off at about 10:00pm.


Tour Inclusions:

1. Professional local guide & driver;
2. Private air-conditioned car or van for transportation;
3. Admission of the first gate.
Tour exclusions:

1. Tip of the guide;
2. Personal costs.

See other Beijing touring programs.

YOUR SAFETY IS IMPORTANT!
At the Great Wall Adventure Club, we only use new and luxury vehicles for your safety and comfortable journey!