Great Wall One-day Hike from the Battlefield Gubeikou to Jinshanling (followed by gourmet lunch)
TOUR 1AA: See both the Great Wall sections built 2,000 years ago and 400 years ago -
The most popular alternative route to replace Tour 1A after Simatai got closed
Popularity Ranking:





*Ranked by the quantity of signups of all 1-day hiking routes.
A person can succeed at almost anything for which they have unlimited enthusiasm. - Charles M. Schwab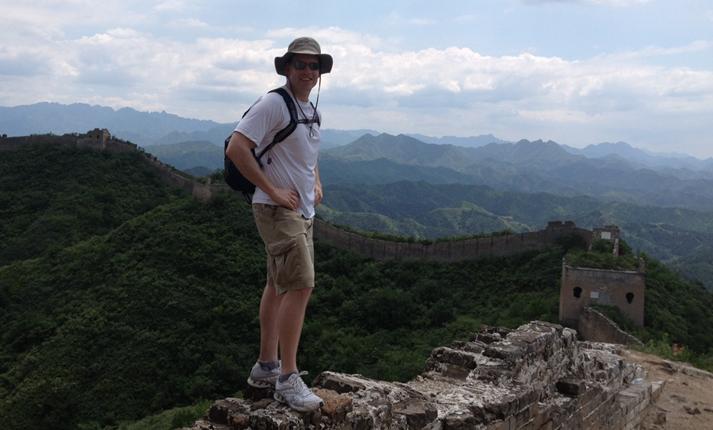 "I don't often do endorsements, but I am happy to recommend The Great Wall Adventure Club to any and all who are thinking of travelling to China. The company was thorough and professional from first contact until the hour I departed. They routinely went above and beyond the call of duty to make my trip smooth and unforgettable. My guide was excellent! Fun, informative, always on time (early, in fact) and a clear communicator.
If you are browsing for a terrific, trustworthy tour company in China -- look no further. I loved my experience with The Great Wall Adventure Club!"

-- American TV Sportscaster Scott Hanson hiked Gubeikou and Jinshanling in July 2012.
Highlights
Gubeikou was a strategic fort to protect the capital in ancient times. Gubeikou, along with the passes at Shanhaiguan and Juyongguan, was a key strategic target in military campaigns since ancient times. Protecting these three passes was considered vital for keeping Beijing safe from the Mongolian nomads. The vistas of the sinuous Wall snaking its way over the ridges of the Yanshan are breathtaking. This section of the wall meanders through the countryside and mountains, and you will be rewarded by the scenery along both the Gubeikou and Jinshanlng sections.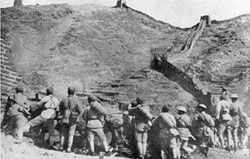 Gubeikou Great Wall in World War II
In 1933, Chinese army fought against Japanese invasion troops in Gubeikou. In the four-month-long battles, over 5,000 Japanese soldiers were killed while 9,000 Chinese soldiers died. It was amazing that ancient wall was still useful in the World War II. In other words, Gubeikou is not merely a relic but it remained as a battlefield in modern world. Today, there is still a military installation in Gubeikou and we'll take a side path along the Wall to by pass that restricted zone. At Gubeikou, there exists the Gubeikou Great Wall Anti-Japanese War Memorial.
Jinshanling Great Wall, a UNESCO World Heritage Site, while partially restored, is not nearly as crowded as Badaling or Mutianyu, allowing you to have a more intimate experience with the wall. Jinshanling is known for it many beautiful watchtowers, as well as the way it winds and snakes its way along the mountains. When you first get up on Jinshanling you will be stunned.
Because of Simatai's closure, our Jinshanling-Smatai hiking route has been re-routed to now be Gubeikou-Jinshanling. This route will still include all the things you love about the Great Wall- graceful watchtowers, magnificent brickwork, and challenging but invigorating Great Wall ruins.


While other companies bus you from section to section, Great Wall Adventure Club lets you personally experience the majesty of the Great Wall by allowing you to physically pass from one section to the next. In contrast to driving across, this lets you see the differences between the restored, maintained, section on one side and the radically different "wild wall" on the other. Your guide is with you throughout the way!

Lunch after the hike is provided with country-style Chinese stir fry and rice (also vegan-friendly).



Testimonials:
Katherine Belarmino is an experienced travel writer, planner, and blogger who has traveled extensively throughout North America, Central America, Europe and Asia. Ms. Belarmino has a wide presence on social media platforms like Facebook and Twitter, and her blog, "Travel the World", has gained an increasingly large following. This past December, Ms. Belamino went on our popular Gubeikou-Jinshanling Great Wall hike, and here are her recollections of her experience on the Great Wall with Great Wall Adventure Club.
For more testimonials, please click here.
Detailed Hiking Itinerary: (10kms /6 miles on the mountain, 4.5 hours of walking)
Our car or minivan will pick you up anywhere within the 3rd ring road, probably between the times 7:30 - 8:30 am. and from your pick up we will drive directly to the Gubeikou (left photo) great wall. The drive should take a little over 2.5 hours.

Gubeikou Great Wall occupies a strategically important location, which is difficult to access. Situated between Shanhaiguan Pass and Juyongguan Pass, and about 62 miles to Beijing, it is the bastion protecting the northern gateway to the capital. There are 14 beacon towers, 143 watchtowers, 16 strategic pass, three citadels and many other military constructions. Many of them are famous cultural relics, such as the Big Flower Beacon Tower of the Northern Qi Dynasty, Fairy Tower, General Tower, and the dominant Wangjing Tower.

Today we will hike for around 10 km/6 miles. Gubeikou is completely unrestored, covered with over 140 watchtowers, all differing in size and design. From the wall here you will be able to witness how the wall twists and winds along the steep mountain ranges. This is as dramatic a view on the Great Wall as you'll find. If the weather is clear, you will be able to see the shimmering blue lake of the Miyun Reservoir.

Much of the hiking that we will do on Jinshanling (right photo) today is relatively easier than Gubeikou, as the wall here is partially restored and the surface is smoother. Jinshanling has five main passes and 67 watchtowers. Every 100 meters (328 feet), there is an enemy tower each of which is about ten meters (33 feet) high. Featuring various structures and having various functions, those watchtowers are either one tiered or two-tiered. Among them, the most celebrated are the Big and Small Jinshan Watchtowers. The Wangjinglou Tower, the General Tower, the Black Tower and the Taochun Tower are also must-sees on the Jinshanling Great Wall. Each tower has its legend. Legend has it that the stone bars used to build the Wangjinglou Tower were carried to the mountaintop by Er Lang Shen, the nephew of the Jade Emperor. The general tower was named to commemorate Wu Guihua, a heroine who sacrificed herself to resist northern invader's invasion in the Ming Dynasty. The Black Tower and the Taochun Tower were christened to commemorate two girls, Heigu and Taochun, who made great contributions to the construction of the Great Wall.

At the end, we will l stop by a local farmer's restaurant nearby with a late lunch before we return to Beijing.

You will be dropped off back at your hotel in the early evening.

It can take another 2.5 hours due to the unpredictable traffic situation in Beijing.



Stuff you should bring with you:

* Tough hiking boots, sunscreen and sunglasses
* Backpack, and snacks or energy/protein supplements you want to have before lunch*
* Extra cash for driver/guide tips
* Don't forget your camera!

Check testimonials from former hikers and view their photos.
More 1-day Great Wall Hiking Tours:

Read complete itinerary of Route 1A: Gubeikou-Jinshanling hike






Read complete itinerary of Route 1B: Jiankou-Mutianyu hike






Read complete itinerary of Route 1C: East Qing Tomb-Huangyaguan hike


Read complete itinerary of Route 1D: Huanghuacheng-Xishuiyu hike




Read complete itinerary of Route 1X: Lianhuachi-Mutianyu hike and Olympic Green (special promo price)



QUICK LINKS TO:



1-day hike |

2-day hike |

3-day hike |

4-day hike |

5-day hike |

7-day hike |

9-day hike |

12-day hike |

Bus Tours