Great Wall Sunset Hike from Gubeikou to Jinshanling
(followed by gourmet dinner)
TOUR 1S2: Fantastic Sunset Tour to the Oldest Parts of the Great Wall
Popularity Ranking:




*Ranked by the quantity of signups of all 1-day hiking routes.
Impossible is a word to be found only in the dictionary of fools. -Napoleon Bonaparte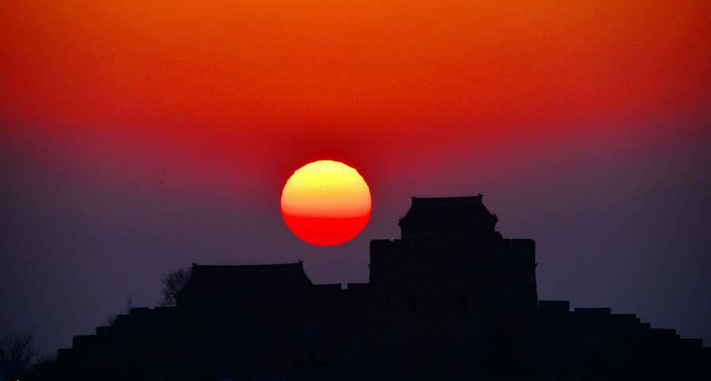 Beautiful sunset at Jinshanling. Photo & copyright by Duan Jiujun. Authorized use only. 2011

WELCOME TO THIS WEBPAGE!

Hello, and thank you for taking the time to visit our website! We know that making a choice about your China trip can be a very big decision, and that's why we want to make sure that you have as much information as possible at your disposal. No other tour operator will give you this much info, and we take it as a point of pride in making sure that our clients are the most informed before their departure. Unlike many Chinese sites, our pages are all in English, and if you find any issues or errors in anything you read, please do not hesitate to contact us. Once again, thank you for visiting Great Wall Adventure Club!

Highlight

*Witness something that most travelers never get to see-both the sunrise and sunset over the Great Wall. This natural sensation will take your breath away, and will be one of the most photogenic opportunities of your China visit

*The Gubeikou-Jinshanling is the premier hike for Great Wall enthusiasts. You will get the best of both Great Wall worlds, both majestically restored wall, as well as wild and dramatic unrestored "Wild Wall", making the hike much more interesting than others

*A Chinese country-style dinner is included.

Departure:

Our Great Wall hiking is a private service. What this means is that you can hike on the Great Wall at any time at your convenience. If you would much

rather be part of a group for the experience for economic and social reasons

, we'll check to see if there are more signups for the same date as your own. We'll keep you updated whenever there are more. If you would like to keep your tour a private one, please let us know and we'll assign you a guide and driver.

Gubeikou was a strategic fort to protect the capital in ancient times. Gubeikou, along with the passes at Shanhaiguan and Juyongguan, was a key strategic target in military campaigns since ancient times. Protecting these three passes was considered vital for keeping Beijing safe from the Mongolian nomads. The vistas of the sinuous Wall snaking its way over the ridges of the Yanshan are breathtaking. This section of the wall meanders through the countryside and mountains, and you will be rewarded by the scenery along both the Gubeikou and Jinshanlng sections.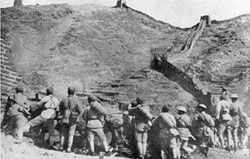 In 1933, Chinese army fought against Japanese invasion troops in Gubeikou. In the four-month-long battles, over 5,000 Japanese soldiers were killed while 9,000 Chinese soldiers died. It was amazing that ancient wall was still useful in the World War II. In other words, Gubeikou is not merely a relic but it remained as a battlefield in modern world. Today, there is still a military installation in Gubeikou and we'll take a side path along the Wall to by pass that restricted zone.
The Jinshanling Great Wall, a UNESCO World Heritage Site, while partially restored, is not nearly as crowded as Badaling or Mutianyu, allowing you to have a more intimate experience with the wall. Jinshanling is known for it many beautiful watchtowers, as well as the way it winds and snakes its way along the mountains. When you first get up on Jinshanling you will be stunned.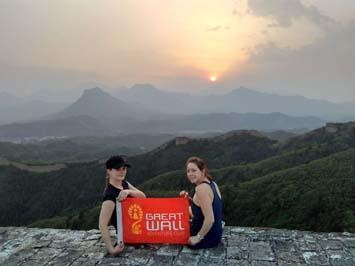 Because of Simatai's permanent closure, our Jinshanling-Smatai hiking route has been re-routed to now be Gubeikou-Jinshanling. This route will still include all the things you love about the Great Wall- graceful watchtowers, magnificent brickwork, and challenging but invigorating Great Wall ruins.
While other companies bus you from section to section, Great Wall Adventure Club lets you personally experience the majesty of the Great Wall by allowing you to physically pass from one section to the next. In contrast to driving across, this lets you see the differences between the restored, maintained, section on one side and the radically different "wild wall" on the other.

"Our tour guide, Rene, was the best! She is a wonderful person! She was also very knowledgeable about the different places she took us to.-Margaret Schroeder, New Jersey"
For more testimonials, please click here
Detailed Hiking Itinerary: (12 km/8 miles on mountain, 4.5 - 6 hours of hiking)
In order for us to catch the sunset over the Great Wall, we'll start our tour a little late today. You will be picked up from your hotel between 10 and 11am (winter and summer), and from there we'll drive out to the Gubeikou Great Wall. Gubeikou Great Wall occupies a strategically important location, which is difficult to access. Situated between Shanhaiguan Pass and Juyongguan Pass, and about 62 miles to Beijing, it is the bastion protecting the northern gateway to the capital. There are 14 beacon towers, 143 watchtowers, 16 strategic pass, three citadels and many other military constructions. Many of them are famous cultural relics, such as the Big Flower Beacon Tower of the Northern Qi Dynasty, Fairy Tower, General Tower, and the dominant Wangjing Tower.

After walking on Gubeikou we will cross over to Jinshanling. Much of the hiking that we will do on Jinshanling today is relatively easy, as much of the wall here is restored and the surface smooth. Jinshanling has five main passes and 67 watchtowers. Every 100 meters (328 feet), there is an enemy tower each of which is about ten meters (33 feet) high. Featuring various structures and having various functions, those watchtowers are either one tiered or two-tiered. Among them, the most celebrated are the Big and Small Jinshan Watchtowers. The Wangjinglou Tower, the General Tower, the Black Tower and the Taochun Tower are also must-sees on the Jinshanling Great Wall. Each tower has its legend. Legend has it that the stone bars used to build the Wangjinglou Tower were carried to the mountaintop by Er Lang Shen, the nephew of the Jade Emperor. The general tower was named to commemorate Wu Guihua, a heroine who sacrificed herself to resist northern invader's invasion in the Ming Dynasty. The Black Tower and the Taochun Tower were christened to commemorate two girls, Heigu and Taochun, who made great contributions to the construction of the Great Wall.

Before we climb down, we'll stay in order to view the sunset over the Great Wall. This experience will be a nature lover's delight, and is also a great opportunity for photos. After climbing down the wall we'll have dinner at a nearby guesthouse. The housewife here is going to serve you Kong Pao Chicken, Stewed beef and potato, Green Pepper and Pork, Fried Tofu in Spicy Sauce, Fried Egg Tomato, Sweet and Sour Chicken, and vegetables (great for vegetarians), and soup. What's more important is that all the vegetables she uses are planted in his own yard, so it is organic and fresh!

Following dinner we'll drive back to Beijing, where you will be dropped off at your hotel, ending your tour. If you are catching a flight or train, we'll send you to the airport or station with an modest fee.






Note: Please remember to bring your own snacks and the following:

* Tough hiking boots, sunscreen and sunglasses
* Backpack, and snacks or energy/protein supplements you want to have before dinner
* Extra cash for driver/guide tips
* Don't forget your camera!