One-day Shanghai Express Tour to Terra Cotta Warriors, Army and Horse Museum, and Pandas

Tour Terra Cotta Warriors of Xian from Shanghai with the world-famous high-speed bullet train
Highlights:

· Visit the Terracotta Warriors and Horses Museum, the greatest archaeological find in recent memory
· Walk upon Xian's still-standing ancient city wall, a magnificent achievement in human engineering.
· For those with a tight schedule, this is an excellent way to experience one of China's most popular and amazing attractions。
* You can continue traveling to Beijing by train or air at the end of this tour. You can also leave for any other any other domestic or international destination such as Tibet or Chengdu or Hong Kong.


Detailed Itinerary (TOUR CODE: XA-EXPRESS1DAY-SH)
You will take a morning flight at 7 or 8 am from Shanghai and arrive in Xian in just two hours.
Upon arriving at Xian Airport you will be met by your English-speaking guide and driver. From there, we will drive about an hour outside the city in order to visit the iconic Terracotta Warriors.
The Eternal Romance of the Terracotta Warriors
"Qin Shi Huang drank mercury, thinking it would give him eternal life."
- BBC, April 12, 2017
Xian is China's ancient capital and home to the world famous Terra Cotta Warriors. The Terra Cotta Warriors and Horses Museum is the result of the most significant archeological excavations of the 20th century. Work is ongoing at this site, which is around 1.5 kilometers east of Emperor Qin Shi Huang's Mausoleum. Upon ascending the throne at the age of 13 (in 246 BC), Qin Shi Huang, later the first Emperor of all China, had begun to work for his mausoleum. It took 11 years to finish. It is speculated that many buried treasures and sacrificial objects had accompanied the emperor in his afterlife. A group of peasants uncovered some pottery while digging for a well nearby the royal tomb in 1974. Life size terracotta figures of warriors and horses arranged in battle formations are the star features at the museum. They are replicas of what the imperial guard should look like in those days of pomp and vigor.

The museum is divided into three sections: No. 1 Pit, No. 2 Pit, and No. 3 Pit respectively. They were tagged in the order of their discoveries. No. 1 Pit is the largest, first opened to the public on China's National Day, 1979. There are columns of soldiers at the front, followed by war chariots at the back. No. 2 Pit, found in 1976, contains over a thousand warriors and 90 chariots of wood. It was unveiled to the public in 1994. Archeologists came upon No. 3 Pit also in 1976. It is the command center of the armed forces. It went on display in 1989, with 68 warriors, a war chariot and four horses. After pausing for lunch at a nearby restaurant, we'll the drive back to Xian.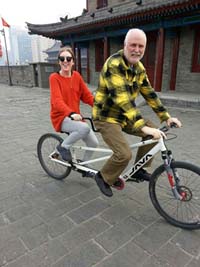 Once we're back in Xian you'll get a chance to walk or take a bike ride around Xian's still functioning City Wall. Xian is one of the few Chinese cities that still has its city wall intact (Photo: Riding bicycle on City Wall).
If the city wall is not for you, we could instead visit the Big Wild Goose Pagoda. This pagoda is surrounded by a still functioning Buddhist temple (named Da Ci'en Temple). The Big Wild Goose Pagoda is one of the most famous Buddhist pagodas in China. The Pagoda was built in the Tang Dynasty (618-907) for the study of Buddhist scriptures. Although it has been attacked by centuries of weather, war and seismic activity, which destroyed most of the original material of the structure, a pagoda by this name and style still exists on the site.
Following your visit to either the Big Goose Pagoda, or City Wall, you'll be taken to the Xian train station to go back to Shanghai.
Return Transportation Choices:
1) Take high-speed train #G666 (5:05pm) or #G670 (5:55pm), arriving in Shanghai before midnight. If you are in a rush and want to skip the Big Goose Pagoda or City Wall, you are take an earlier train G662 at 2:40 pm to come back to Shanghai in the afternoon.
2) Take an overnight sleeper train (Z20, Z44, T42, T44) at 19:00 and arrive in Shanghai at 8 am the next day morning.
3. Take an evening flight at 9 pm and arrive in Shanghai in two hours.
Optional Day 2:
See the pandas in Chengdu


Attention panda lovers! You can extend your trip to meet the precious Giant Pandas in Chengdu now! Simply take China's famous high-speed bullet train from Xian to Chengdu, the home of pandas. It will take only three hours to get transferred to Chengdu. You will see the most pandas in the world by visiting the Panda Reserve and Research Center. You may also do a full-day voluntary work for the pandas by preparing food and feeding them in the panda base. The survival of this species has been threatened in the past, so all conservation efforts are of paramount importance. Contact us today to find out how you can be a part of the efforts to preserve the giant pandas of China in a nature reserve. You will receive a certificate of having been a proud volunteer.
Shanghai Tour and Complimentary Train Station/Airport Transfer to Xian
Please also keep in mind that we are based in Shanghai, and as your port of entry into China is likely to be Shanghai, please do not hesitate to ask us about our Shanghai city tours, as well as our world famous Great Wall adventure programs. If you wish to combine your Shanghai private tour/Great Wall (private tours) with us, we'll give you a free train station or airport transfer from your train/flight to Xian. Please keep in mind that this is with a Shanghai private tour/Great Wall hike only.
Shanghai-XIAN HIGH-SPEED BULLET TRAIN SCHEDULE
*The train authority updates this list often. Here is a reference only.
| | | |
| --- | --- | --- |
| Train # | Departure | Arrival |
Shanghai-XIAN OVERNIGHT TRAIN SCHEDULE
| | | |
| --- | --- | --- |
| Train # | Departure | Arrival |
IF YOU FIRST ARRIVE IN BEIJING ...

Learn details of the one-day tour from Beijing, please visit One-Day Tour page.

To Compa

re the difference above two express tours from Beijing, please visit the Xi'an Express Tour pages.