Xian 2-day 1-night Package Tour or Weekend Tour
Xian 2-Day & 1-Night Tour or Weekend Tour Package
Weekend Tour from Beijing or Shanghai to
Terracotta Warriors, Huaqing Hot Springs, City Wall, Big Wild Goose Pagoda
Make your own Terra Cotta Warrior and take it home!
In March 1974, a group of peasants digging a well in drought-parched Shaanxi province in northwest China unearthed fragments of a clay figure—the first evidence of what would turn out to be one of the greatest archaeological discoveries of modern times. Near the unexcavated tomb of Qin Shi Huangdi—who had proclaimed himself first emperor of China in 221 B.C.—lay an extraordinary underground treasure: an entire army of life-size terra cotta soldiers and horses, interred for more than 2,000 years. The site, where Qin Shi Huangdi's ancient capital of Xianyang once stood, lies a half-hour drive from Xian. It is a dry, scrubby land planted in persimmon and pomegranate that is marked by dun-colored hills pocked with caves.
Highlights:
• Experience Xian, China's "valley of the kings" and the country's ancient capital, which is bursting with history and culture at every turn
• View the Terracotta Warriors and Horse, China's most amazing archaeological discovery and one of the world's true wonders
• Make your own Terracotta Warriors and bring it home!
• Enjoy the golden age of China in a sumptuous dinner show showcasing traditional dancing and costumes
B= Breakfast, L= lunch, D= dinner

TOUR ITINERARY

Tour code:


GWAC-XA-01
DAY 1

: ARRIVE IN XI'AN (L, D)

In the morning you will arrive in Xian (either by train or by plane), and you will be met at the train station or airport by your English-speaking guide. You'll be taken first to your hotel, in downtown Xian. After a bit of freshening up, you'll be taken to the premier highlight of Xian, and one of the world's great treasures, the Terracotta Warriors and Horses Museum.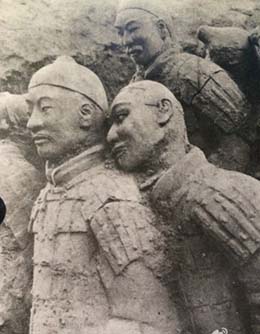 The Terra Cotta Warriors and Horses are the most significant archeological excavations of the 20th century. Work is ongoing at this site, which is around 1.5 kilometers east of Emperor Qin Shi Huang's Mausoleum. It is a sight not to be missed by any visitor to China. Upon ascending the throne at the age of 13 (in 246 BC), Qin Shi Huang, later the first Emperor of all of China, had begun to work for his mausoleum. It took 11 years to finish. It is speculated that many buried treasures and sacrificial objects had accompanied the emperor in his after life. A group of peasants uncovered some pottery while digging for a well nearby the royal tomb in 1974. Life size terracotta figures of warriors and horses arranged in battle formations are the star features at the museum. They are replicas of what the imperial guard should look like in those days of pomp and vigor.



MAKE YOUR OWN TERRACOTTA WARRIOR!

You will have an opportunity to visit the Terracotta Reproduction Factory before you see the real Terracotta to get an introduction to the craftsmanship. At the factory, talented craftsmen make these life size replicas in the same manner as their counterparts did two thousand years ago - with just their hands, a few basic tools, and clay. By watching how a terracotta is made, you can try to make your own miniature reproduction of the famous artifact and take it home!

After visiting the warriors, you'll be taken for some relaxation and fun at the Huaqing Hot Springs. The Huaqing Hot Springs has been the site of a famous imperial bathing pool and various palace complexes over its 3,000-year history. It is a National Cultural Relic and one of China's Hundred Famous Gardens.

Huaqing (Hua means brilliant, Chinese or flowery; qing means pure or clear) Hot Springs is located about 35 kilometers east of the city of Xi'an, at the foot of Li Mountain. The present day site is only a small part of the Tang Dynasty Palace, covering an area of 85,560 square meters. Entering by the west gate to the hot spring, you will see Nine Dragon Pool, Lotus Flower Pool and Frost Drifting Hall. All these structures were rebuilt in 1959 according to the Tang architectural style.

For dinner, you'll have a real treat in store for you in the form of the Tang Dynasty Music and Dance Show. The Tang Dynasty Music and Dance Show, a wonderful performance of the ancient music and dance, is a must when you visit Xian. The city, which was formerly known as Chang'an has a very long history, and was the imperial capital during 13 dynastic periods. Of these, the Tang Dynasty (618 - 907) was the most prosperous and glorious of all. The Tang Dynasty Music and Dance Show is an outstanding exponent of this ancient stable and prosperous society, keeping alive its splendid culture and providing an insight into the peaceful life style of the period. As an art form, the show has its roots in folk fetes, when dances were first performed by people as part of rituals of prayer for a good harvest or a better life, combining poetry with the skilled playing of musical instruments, singing, dancing and also stunning costumes, the modern presentation is certain to give you an impressive view of ancient China including its splendid history, brilliant arts, distinct traditions and customs.

After the show, you'll be taken back to your hotel for your first night.


DAY 2

: Xian-depart (B, L)

After breakfast in the hotel, you will be able to take a leisurely stroll on the Xi'an City Wall. It's the most complete city wall that has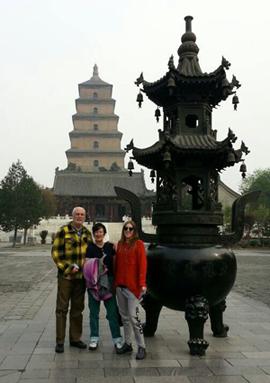 survived in China, as well being one of the largest ancient military defensive systems in the world. Xi'an City Wall was erected in the 14th century Ming Dynasty, under the regime of Emperor Zhu Yuanzhang. When Zhu Yuanzhang captured Huizhou, long before the establishment of the Ming Dynasty, he was admonished by a hermit named Zhu Sheng, who told him to "build high walls, store abundant provisions and take your time in proclaiming yourself emperor." If you like, you have the option of renting a bike or a rickshaw on the wall in order to cover more ground in a shorter time.

We will then drive to the Big Wild Goose Pagoda, a pagoda surrounded by a still functioning Buddhist temple (named Da Ci'en Temple). The Big Wild Goose Pagoda is one of the most famous Buddhist pagodas in China. The Pagoda was built in the Tang Dynasty (618-907) for the study of Buddhist scriptures. Although it has been attacked by centuries of weather, war and seismic activity, which destroyed most of the original material of the structure, a pagoda by this name and style still exists on the site. The Tang regime gave orders to build a chamber for the translation of Buddhist scriptures in an effort to have the then widely renowned Master Xuanzang agree to be the head of the temple. Xuanzang was a Buddhist monk who traveled to India, translated Sanskrit scriptures and developed theories of consciousness, karma and rebirth that were adopted by some later popular schools of Buddhism.

The hallowed pagoda is an architectural marvel. It was built with layers of bricks without any cement. The bracket style used in traditional Chinese architecture was also used in the construction of the pagoda. The seams between each layer of bricks and the " prisms' on each side of the pagoda are clearly visible. The grand body of the pagoda with its solemn appearance, simple style and high structure, is indeed a good example of Chinese traditional architecture.

After visiting Big Wild Goose Pagoda, you'll be taken either to the train station or the airport, and you'll travel on to your next destination, ending your stay in Xian.

Included:

1. Hotels with daily western breakfasts;
2. Meals in accordance with that listed on the itinerary.
3. professional local guide & driver;
4. Private air-conditioned car or van for transportation;
5. Admission of the first gate;
6.Two bottles of mineral water per day.
E
xcluded:
1.
Tips to the guide;
2. Personal costs.

See other Xian Tour Programs