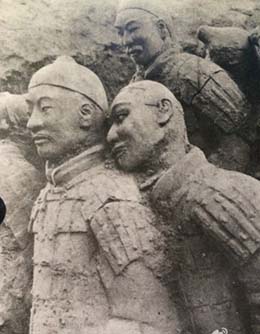 After an early morning pick-up hotel, you will be taken to the Beijing airport by your guide and driver. From there, you will make the 90 minute flight to Xi'an, the capitol of China's Shaanxi province. You will be met at the airport by your guide and driver.
From there we will drive to the ancient city wall of Xi'an. It's the most complete city wall that has survived in China, as well being one of the largest ancient military defensive systems in the world. Xi'an City Wall was erected in the 14th century Ming Dynasty, under the regime of Emperor Zhu Yuanzhang. When Zhu Yuanzhang captured Huizhou, long before the establishment of the Ming Dynasty, he was admonished by a hermit named Zhu Sheng, who told him to "build high walls, store abundant provisions and take your time in proclaiming yourself emperor." If you like, you have the option of renting a bike or a rickshaw on the wall in order to cover more ground in a shorter time.
Then we'll drive to our next destination, the place that made Xian known the world over, the Terracotta Warriors. The Terra Cotta Warriors and Horses Museum is the result of the most significant archeological excavations of the 20th century. Work is ongoing at this site, which is around 1.5 kilometers east of Emperor Qin Shi Huang's Mausoleum (which we will take 30 minutes to visit after touring the Terracotta Warriors). Upon ascending the throne at the age of 13 (in 246 BC), Qin Shi Huang, later the first Emperor of all China, had begun to work for his mausoleum. It took 11 years to finish. It is speculated that many buried treasures and sacrificial objects had accompanied the emperor in his afterlife. A group of peasants uncovered some pottery while digging for a well nearby the royal tomb in 1974. Life size terracotta figures of warriors and horses arranged in battle formations are the star features at the museum. They are replicas of what the imperial guard should look like in those days of pomp and vigor.
Afterwards, you will be driven to the Xi'an airport, where you will fly back to Beijing. Once in Beijing, your guide and driver will drive you back to your Beijing hotel for the night.
OPTION: Take China's bullet train or overnight sleeper train to visit Xi'an. Please follow Xi'an Bullet Train link to see your options.
Either you fly to take train to Xi'an, we'll buy the tickets on your behalf. For train tickets, as they are of higher demand, we'll buy in advance to secure the seats.