[TJPORT 8]
Looking for a reliable and comfortable private transfer from Tianjin Home Port Xingang to Beijing with a morning excursion to the Olympic stadiums and the Old Hutongs of the city? Great Wall Adventure Club is here to help. We have a large fleet of cars and vans with licensed tour guides and professional drivers. We make sure that your private transfer will be safe, comfortable and relaxing.
Either book online or just send us an email, and our customer service specialists will contact you with the details. No
matter what happens, your customer service specialist will be with you to help.
Following your hotel pickup at 8:00am, we will head to visit the Drum Tower. The bell and drum were originally used as musical instruments in China. Afterward, however, they were used for telling time. As early as in the Han Dynasty (206 BC-220), there was 'a morning bell and a dusk drum'. Telling the time by bell and drum played an important role in helping people live and work regularly when there was no other means to keep track of the time. As a result, bell and drum towers became public architectures, and were widely constructed in almost every city throughout the country since the Han Dynasty. In the history of their construction, the bell and drum towers of Beijing are the largest and highest. Their layout is unique, in that they were placed fore-and-aft, not as the traditional sense of standing right-and-left horizontally. We will walk around the towers, and we will go up into the Drum Tower, which will give you a great birdís-eye view of the city.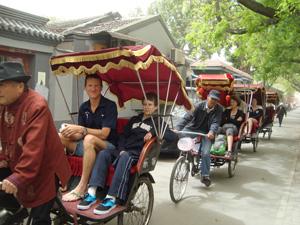 Next, we will arrive at the Shichahai lake area. Shichahai is a famous scenic area that includes three lakes (Qian Hai, meaning Front Sea; Hou Hai, meaning Back Sea and Xi Hai, meaning Western Sea), surrounding places of historic interest and scenic beauty, and remnants of old-style Beijing residences, Hutong and courtyards. Shichahai is always a good place for local Beijingers' recreational life, and in the last 200 years, many governmental officers, celebrities, monks and nuns chose to build mansions, temples and nunneries in Shichahai. Thus, Shichahai's attraction lies not only in its natural beauty, but also in the historical value of its architecture. The lakeshore is packed with young people chatting, drinking and generally relaxing as wood pigeons coo overhead. In recent years it has become famous for nightlife because it is home to several popular restaurants, bars, and cafes. We will take a leisurely stroll along the lake, where we will gradually come across Yandai Xiejie Street.
Weíll then head to the northern area of the city, in order to go to the Olympic Green. The Olympic Green was the center of the event that captivated the world for two weeks in August of 2008, and is where a majority of the Olympic events took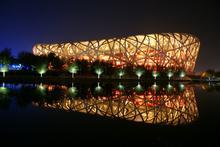 place. The highlights that you will see today include the Birdís Nest (officially known as the Beijing National stadium) and the Water Cube (the Beijing National Aquatics Center). The stadium gets its nickname from its outward design, which originated from the study of Chinese ceramics, implementing steel beams in order to hide supports for the retractable roof, thus giving the stadium the appearance of a "Bird's nest". The Birdís Nest hosted the Opening and Closing Ceremonies, athletic events, and football final of the 2008 Summer Olympics, from 8 August to 24 August 2008. Since the Olympicís end, the Birdís Nest has been used to host events ranging from opera to a ski park.
Following your tour of the Olympic stadiums we will stop to have lunch. Afterwards, weíll head to Tianjin Home Port Xingang. Tianjin Port Xingang is about 200 km from Beijing and the drive will take about 2-3 hours. We should arrive at Tianjin Home Port at around 4:00pm or your designated time. Your tour guide will escort you from the beginning to the end. Your tour guide and driver will give you a hand in carrying your big pieces of luggage to the Tianjin Home Port Xingang Cruise Terminal Building from the parking lot. Bon Voyage!