Yunnan Adventure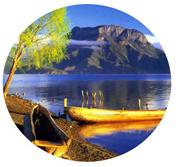 Yunnan Adventure: 4-day
Kunming Golf Vacation
Highlights:
• Kunming, the capital of Yunnan province, southwest China, is known as the "eternal spring city", making it the perfect destination for a golf getaway. On this tour you'll play two rounds at Kunming Spring City Golf and Lake Resort, which contains two courses designed by Jack Nickalus and Robert Trent Jones Jr. (you'll play both), and is considered the best golf course in China by U.S. Golf Digest. You'll also play a round at Lakeview Golf Club, a modern golf resort that also affords postcard views of West Hill and Dichai Lake
• In addition to the great golf in store for you, you'll also get to explore the great tourist sites of Kunming. Being the "spring city", Kunming has some gorgeous areas, and you'll experience this at the Stone Forest, West Hill, Yuantong Temple, and the Green Lake
• This tour also includes free pick-up and transfer to the airport, and you'll also have with you a professional and local English-speaking guide, guaranteeing you that you'll get the most out of your stay in Kunming
B=(Breakfast) L=(lunch) D=(dinner) DEPARTURE: Daily
TOUR ITINERARY

Tour code:


AYN-14
Day 1: arrive in Kunming

You will fly to Kunming International Airport, and upon arrival you'll be met by your English-speaking guide. Kunming is the capital of southwest China's Yunnan province, a primarily agricultural province of 45 million. Kunming has a population of five million and is located in one of the world's most geographically, ethnically, biologically and linguistically diverse regions. Situated at 1,900 meters (6,233ft) above sea level and 25° north of the Equator it has a rather unique and pleasant climate for a Chinese city. Kunming is also well known as the Spring City because of its nice climate all year round, and this will make the golfing even more enjoyable.

After pick up from the airport, we'll go for a little touring by taking a stroll along Green Lake. Green Lake (Cuihu) is Kunming's answer to Central Park in New York. Lined with willows, the lake is gorgeous, crisscrossed by small arched bridges in imitation of Hangzhou's more famous West Lake. The best season is winter, when days are warm and sunny and the large flocks of "Laughing Gulls" with their cackling cries as they arrive from their breeding grounds in Siberia. The gulls enjoy the legendary "eternal spring" weather in Kunming.

Afterwards you'll be taken to your lodging, the Kunming Spring City Golf & Lake Resort. Surrounded by mountains and beside the limpid lake, the Spring City Golf & Lake Resort is one of the most beautiful golf holiday resorts in the world, hence the name of the golf paradise in Asia. The resort is comprised of and two championship golf courses - the Mountain Course designed by Jack Nicklaus, and the Lake Course by Robert Trent Jones Jr. Both courses have received numerous international accolades since they were completed in 1998.

With its cool, temperate spring-like climate all year round, stunning views of Yang Zong Hai Lake and a mountainous backdrop, Spring City Golf and Lake Resort was host to several major golf tournaments during the year, and also a popular venue for corporate meetings. These included the Board of Governors' Cup and the Spring City Cup.

You will have a chance to unpack and relax for the evening.

Day 2: Kunming Spring City Golf and Lake Resort-Stone Forest-Kunming Spring City Golf and Lake Resort (B)

In the morning, you will get the chance to play 18 at the Mountain Course (Jack Nicklaus designed). You will find that the golfing today will be highly enjoyable. US Golf Digest ranked it the "No.1 Golf Course in China" while Golf Digest Hong Kong listed it among the "Top 10 Golf Courses in China and Hong Kong". The latter also voted Spring City as the "Best Maintenance Golf Course" and named Holes No. 5 and 7 of the Lake Course as "Signature Holes". For the fifth consecutive year, the resort was named "My Favorite Golf Club" by China Golf Magazine.

After your round will get in some sightseeing with a trip to the Stone Forest. Well get there by making the 90km drive to the southeast of Kunming. Being one of the National Scenic Resorts in China, the Stone Forest Scenic Resort has a complete range of karst formations. Among the most wonderful attractions in this area are the following eight scenic spots: Large & Small Stone Forests, Naigu Stone Forests, Large & Small Zhiyun Caves, Qingfeng Cave, Long Lake, Moon Lake, Fairy Lake, Feilong Falls. Standing upright in the Stone Forest are innumerable cliffs and peaks, lofty and majestic, steep and precipitous, charming and enchanting. From afar, it really looks like a dense forest but as you walk closer, you will find "trees" are all slender stone pinnacles. The sight is vast covering some 350 kilometers. The Yi and Sani ethnic group who live there are hardworking and good at singing and dancing. Their folklore and culture are colorful and multifarious, backed up by a long history.

We will then drive back to Kunming for the evening.



Day 3:

Kunming Spring City Golf and Lake Resort-Kunming (B, L)

In the morning you will get to play a round at the resort's other course, the Lake Course (designed by Robert Trent Jones Jr.). After your round of 18 and a visit to the 19th hole for lunch, we'll drive into Kunming in order to visit Yuantong Temple.

Located at the foot of Luofeng Hill in the northern part of the city, it is the largest Buddhist temple in Kunming, where the Yunnan Provincial and city's Buddhism Commissions are based. The temple was built during the Tang Dynasty, with a history spanning over 1,200 years. During the Ming and Qing Dynasties, the temple was reconstructed and repaired several times to its present size and appearance. The temple is now one of the most important Buddhist temples under State special protection.

Afterwards we'll then head over to the Flower and Bird market on Shangyi Street, which are quite famous. The florists there sell their wares by weight, so one can buy as little as a single rose. There is a flower & bird market in Jingxing Street, with numerous market stalls and shops run by ethnic minorities where one can buy all manner of ethnic handicrafts, including flowers and even live birds. Kunming is renowned for its handicrafts such as ivory carvings, woodcarvings, Burmese jade and other stone items. The food specialty shops of Kunming also offer many unique food and health-food items (aka Medicinal Foodstuffs) that are not available elsewhere in China, including tropical fruits.

You'll then be taken to your hotel for the evening, and tonight you'll be staying at the Kunming Horizon Hotel.

Day 4: Kunming-Lakeview Golf Club of Kunming-departure (B)

Following breakfast, you'll be taken to the Kunming Lakeview Golf Club. Kunming Lakeview Golf Club benefits from spectacular views of the famous Xishan Mountain and the Dianchi Lake. It is only 15 minutes' west of downtown Kunming. The par 72 golf course measures 7260 yards in length and its peculiar and interesting hole design provides a great experience for all levels of golfers. It provides world-class amenities ranging from natural hot springs, saunas, massage facilities, beauty salon, gymnasium, sports bar and fine dining facilities for golfers.

After your round of golf, you'll be taken to the nearby Yunnan Ethnic Village, a theme park that displays the colorful folklore and architecture of 25 ethnic groups residing in Yunnan Province. The theme park offers shows and performances, folklore and wax museums, as well as replica buildings found in the villages of each ethnic group.

Before leaving for the airport we'll get in one last bit of sightseeing with a visit to the West Hill (known in Chinese as Xishan). West Hill has enjoyed great fame for its beautiful and unique natural scenery since ancient time and was renowned as " the most beautiful place in Yunnan". Looked from afar, the mountain looks like a sleeping beauty lying on the Dianchi Lake. The girl looks so fascinating with her dark long hair flowing on the water face and you can even distinguish her head, breast, belly and two slim long legs. It contains the Huating Hill, Taihua Hill and Luohan Hill, extending a distance of more than 40 kilometers at an altitude of between 1900 meters to 2350 meters above sea level. Xishan is also known for stone sculptures on the cliff, represented by the Dragon Gate, which took 72 years to complete. Tourists can take a bird-eye view of the grand Dianchi Lake from the spot of the Dragon Gate. Attractions here include the Huating Temple, Taihua Temple, Sanqingge Pavilions, Longmen Grotto.

After taking in the beauty of West Hill and all that it overlooks, you will be driven to Kunming International Airport and you will fly on to your next destination. If you would like to extend your stay in Kunming or your time in China then check with our China City Tours or China Package tours page to find out how!
Stuff to bring:
• Sturdy shoes or boots, sunglasses and sunscreen
• Bug spray and any other items needed in dealing with the tropical heat
• Tips for a job well done by your guides and drivers, money for any personal expenses not mentioned