Camping in Ancient
Watch Tower on the Wall and by the Lake
TWO WAYS TO SERVE YOU
1. Self-guided with our private transfer and the help from our local support staff at the Great Wall. Usually, it means some saving and freedom of departure date. Great for those who book this tour for economic reason or want more privacy. Please fill out the form below to request for a quote.
2. VIP English private or semi-private tour.

PRICES for VIP TOUR
# of Head
USD


each person

1
499
2
289
3
269
4
249
5
229
6+
199
WHAT'S INCLUDED IN PRICE
* Personal transfers from and to hotel
* Admissions fees to the Great Wall
* One dinner and one breakfast
* The privilege of camping on the Great Wall and exclusive access to the camping watch tower
* All necessary camping gears such as tents & bags
* Quality vehicle, professional driver and English-speaking tour guide
* Free membership card
* A credit of USD10 when you reserve the next tour with us
ADDTIONAL SERVICES
* Enjoy a bottle of the famous Great Wall Brand dry red wine for $39 while camping on the Great Wall
* Enjoy a dozen of Tsingtao Beer for USD39.
Guaranteed no detours to
shops or markets, etc.

Want to see more of the legendary Great Wall in all its beauty and splendor? Visit our Instagram page for a preview of what could be in store for you!
TRAVEL INSURANCE
If you currently don't have travel insurance then you will be required to purchase our PICC (People's Insurance Company of China) travel and accidental insurance.
The fee will be $

9

.99 per person, and will cover the duration of your hiking/camping/trekking in order to ensure that you are comprehensively protected if injured.

For more information about our travel insurance policy please see our insurance page.



QUALITY VEHICLES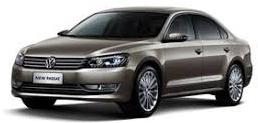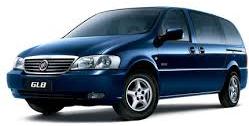 YOUR SAFETY IS OUR
TOP PRIORITY!

At the Great Wall Adventure Club, we only use quality vehicles such as VW Passat and Buick Minivan for your safety and comfortable trip!
Overnight

Camping at Lakeside Great Wall

with

Hiking


Route 2DC: Our newest low-price overnight camping program that bring you the stunning views of the Great Wall by hiking and camping at the lakeside Huanghuacheng
COMING SOON ON JULY 1, 2019



The outdoorsman: Stay overnight on the Great Wall of China
"When people come to the Great Wall of China, they want to explore the history and see why it was built. A day trip to the tourist sites won't achieve that, but a sleepover on one of the world's most storied ruins certainly will. The Great Wall Adventure Club organizes trips to sleep in a watchtower where soldiers were formerly garrisoned. When night falls, the only thing above is the stars, while the incredible land of the surrounding hills is absolutely silent ... (June 11, 2012)"
Guaranteed camping in an ancient watch tower by the lake!

See this thrilling route on the map .
Highlights:

Once-in-a-life experience of sleeping on the Great Wall, which only ancient warriors could do in history. You'll camp on a watchtower surrounded by the Wall on the mountain and by the lake!

On this hike you will get the best of the wild and dramatic unrestored "Wild Wall," making the hike much more interesting by enjoying the silence and peace on the mountains.

Weather permitting, meet the sunset and sunrise at the Great Wall from your hiking and camping, catching the unique views that only can be done by hiking and camping in this world heritage site.

Family-friendly for those who have seniors and kids in a group.

Perfect for those who have tight schedules in Beijing. If you have a flight or train to catch the next day, we will be happy to drop you off directly from the Great Wall with a modest fee.

Perfect for those who wish to experience more from camping for one night in the watchtower.

One of the most affordable camping programs in our 2-day overnight adventure category.
Day 1: Hike the Great Wall from Huanghuacheng to Xishuiyu along the lake for 4 hours. Meet the sunset and camp in a watchtower.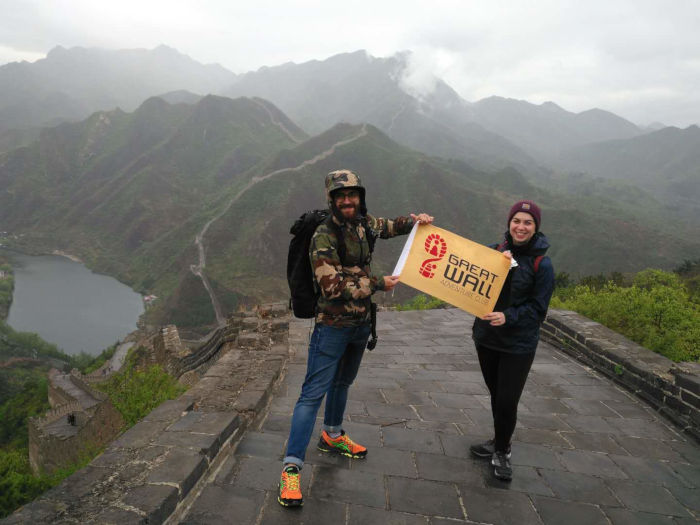 In the morning your guide will pick you up from your hotel, and will be driven directly to Hunaghuacheng (or Huanghua Great Wall). After a short walk around the dam on the Huanghuacheng Reservoir, we will start our hike westward to Xishuiyu.
Going to Huanghuacheng Great Wall, you have four things to do at least. First, you should take photos. Since the lake breaks this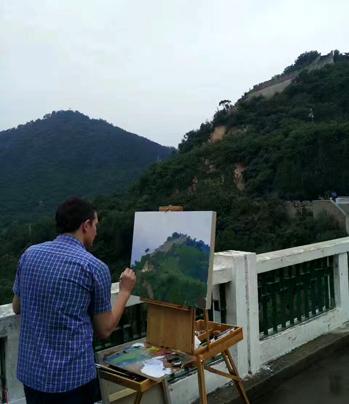 section of the Great Wall into three segments naturally, its uniqueness might surprise you. And the Huanghuacheng Reservoir lies here, shaped like a curved moon. Second, go to visit the chestnut garden under the Great Wall, dating back to the Ming Dynasty. The ancient chestnut trees still grow very well. Third, climb up the steepest section of the Huanghuacheng Great Wall, Shibadeng. It is like a dragon, ready to fly into the blue sky. Fourth, look at Yaoziyu Castle. It was built in the Ming Dynasty, still well preserved. In the castle, there is an ancient Chinese scholar tree. It is said that touching it could bring you a blessing.
The highest point of the wall is a broken watchtower, and from there you will have a wide panoramic view of the whole valley. From this summit the Wall dives steeply downwards into the valley. The Gate is located at the bottom, an opening in the wall, which connects the Zhuangdaokou village on the inside, with the still-well-preserved Yaoziyu Castle, built in the Ming Dynasty, on the outside. Over the top of the passageway is another watchtower where we will rest a short while before continuing on. On the inside of the gate you will notice three large characters carved in the stone, indicating the name of the village – ZhuangDaoKou. On the outside is written the name of the passageway - "ZhenNu Pass" - meaning "Defeat to Invaders", a warning to potential attackers in ancient times.
From here we will continue to trek westward, climbing towards the broken wall to our destination, a peak overlooking Xishuiyu Lake. From our vantage point, we will see a real treat, the broken wall running underwater! From this point, the wall is in too bad a condition to walk, so we will follow a delightful mountain trail to Xishuiyu village, where we will have a gourmet country-style Chinese dinner. A very friendly Chinese housewife will cook her best dishes for you and treat you with some fruits she plant in the orchard of her backyard which lead to the Great Wall.
Upon sunset arrives, you may walk for just 10 minutes back to the Wall to catch the magnificent views from a watchtower. When it is dark, you will walk for just 10 minutes back to the tower where you will spend the night by camping.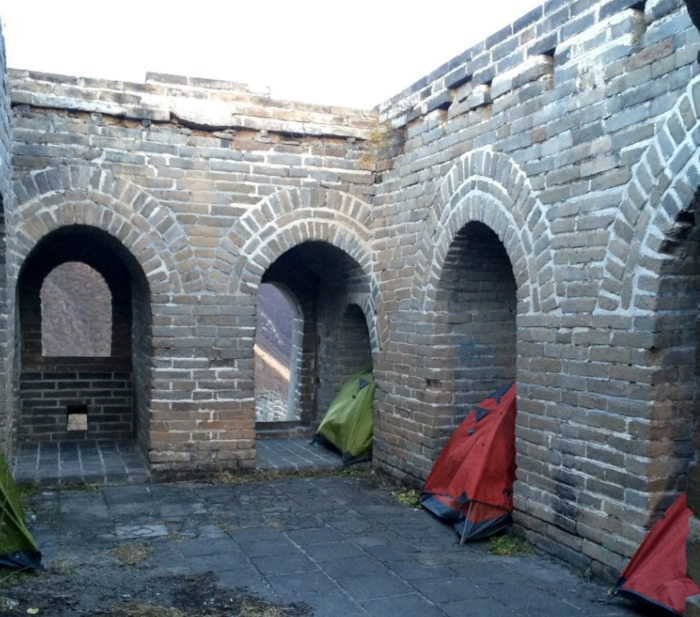 Day 2:

Watching the Beautiful and Inspiring Sunrise



Waking up at about 5 am in the summer or 6:30 am in the winter, you will meet the magnificent sunrise from the Great Wall. Take a lot of pictures and videos!

After having continental breakfast, you will return to Beijing or go to the airport or train station to catch your next trip. The inbound traffic to Beijing in the morning is relatively smooth, you will get back to your hotel around 9 am.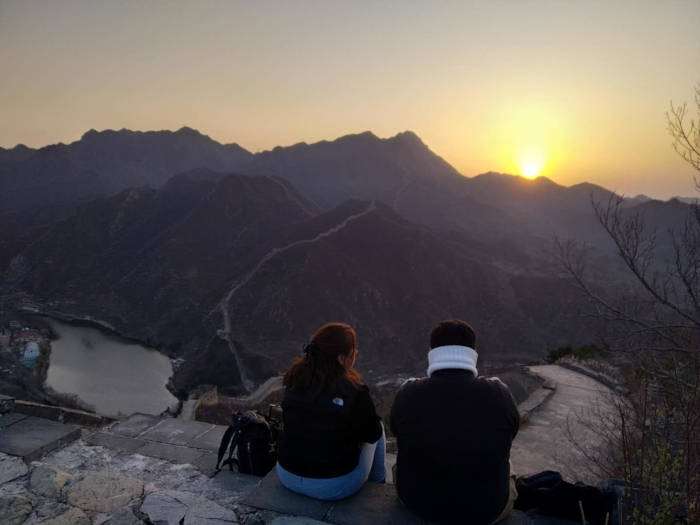 One more thing to do for a complete Beijing adventure
: Optional tours to T
he Forbidden City, Temple of Heaven and Summer Palace
Compared with China's other megacities, Beijing is still a traditionalist at heart, so delve into the shops, galleries and restaurants in the city's old, alleyway-threaded hutong neighborhoods. - New York Times, 2015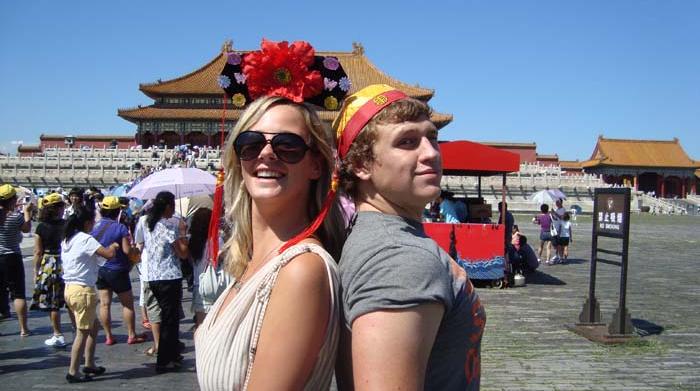 This day is optional, but you really shouldn't miss it. Great Wall Adventure Club picks Beijing's must-see's if you have a tight schedule besides the adventure to the Great Wall.

Being

the capital of many dynasties in the history, Beijing has much to offer.

N

o matter how you are busy, you shouldn't miss the Forbidden City, Temple of Heaven and Summer Palace. If you don't want this day to be tight to cover the three attractions, do the Forbidden City and Summer Palace.

You will return home with full chip of pictures of epics.

For one-day tour of t

he Forbidden City, Temple of Heaven and Summer Palace

, please book our private tour. You can see the program details in our Beijing tour section.

For just two attractions of

the Forbidden City and Summer Palace

, we have a group tour for a very reasonable price. You can see the program details in our Beijing group tour page.

Great Wall adventure guests will receive discounts for both the private tour and group tour.


Stuff to bring on your trip:

* Tough hiking boots, sunscreen and sunglasses, and water
* Backpack, and snacks or energy/protein supplements you want to have before lunch
* Extra cash for drive/guide tips along with money for either cable car or toboggan ride
* Don't forget your camera!

We have up to 8 different routes for overnight hiking and camping on the Great Wall!



Read complete itinerary of Route 2X: Forbidden City + Sleep in the Watchtower (Camp!)




Read complete itinerary of Route 2AA: Gubeikou-Jinshanling-Jiankou-Mutianyu hike (Camp!)






Read complete itinerary of Route 2AB: Gubeikou-Jinshanling-Second Valley Hike & Camp (Camp!)





Read complete itinerary of Route 2B: Huanghuacheng-Jiankou-Mutianyu hike






Read complete itinerary of Route 2C: Chengde-Panjakou Reservoir-Xifengkou hike.



Read complete itinerary of Route 2D: Panjiakou Reservoir-Xifengkou hike.


Read complete itinerary of Route 2E: East Qing Tomb-Huangyaguan hike.



Read complete itinerary of Route 2F:
Laolongtou-Shanhaiguan-Sandaoguan-Jiaoshan-Jiumenkou-Huangtuying hike



QUICK LINKS TO:



1-day hike |

2-day hike |

3-day hike |

4-day hike |

5-day hike |

7-day hike |

9-day hike |

12-day hike |

Bus Tours